CHIHULY – LIBENSKÝ – BRYCHTOVÁ
1 Jun – 24 Sep 2018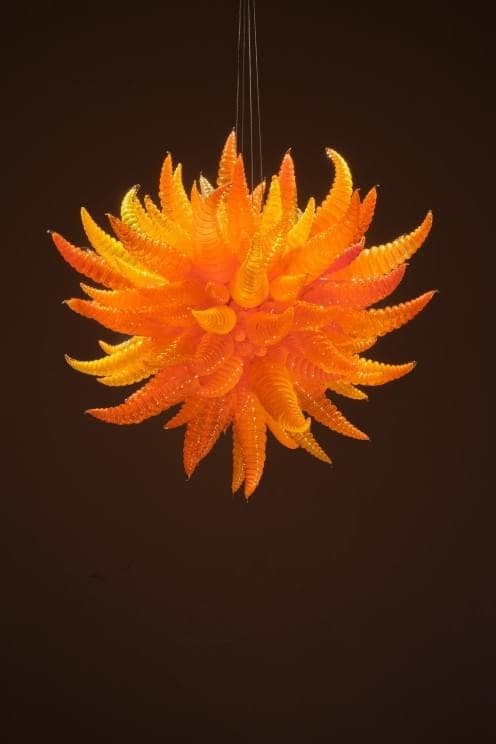 "I continue to be amazed by Stanislav and Jaroslava, as artists and teachers, as individuals and as a couple. By sharing their skills and knowledge with other glass artists from around the world, they have helped to create an international glass community and have become a legend in their own time."
Dale Chihuly
"Dale is a phenomenon who, throughout his entire life, has been gravitating to ever more expressive, monumental, and above all freer forms of expression. He is thus becoming an absolute genius of contemporary glass art throughout the world."
Stanislav Libenský
"In the spring of 1969 a young American walked up the hill overlooking the small Czechoslovakian factory town of Železný Brod, stopped in front of a home and called out, 'Is this the Libenský house?'" This is how American art critic Ron Glowan describes the first meeting of Dale Chihuly, Stanislav Libenský and Jaroslava Brychtová.
Captivated by Stanislav Libenský and Jaroslava Brychtová´s magnificent architectural installation of cast glass, which he had seen at the  EXPO '67 World's Fair in Montreal, Dale Chihuly decided to visit the  artists in their at the time Communist-governed homecountry. This momentous meeting marked the beginning of an ongoing personal and artistic relationship that links three legends of contemporary glass art.
The example of Libenský and Brychtová as dedicated artists and teachers would inform Dale Chihuly´s own aspiration to teaching and creative experimentation in glass. At the Pilchuck Glass School in Washington, which he co-founded in 1971, Chihuly would have a similar influence on a new generation of glass artists in America and worldwide.
Organized by the DOX Centre for Contemporary Art in Prague, in cooperation with Dale Chihuly Studio and the family of Stanislav Libenský and Jaroslava Brychtová, this exhibition is an homage to an extraordinary story of mutual respect, professional support and personal friendship which despite the difficult times of the Cold War has endured for an unbelievable fifty years.
Exhibition Concept: Chihuly Studio, Jaroslav Róna 

Exhibition Design: Chihuly Studio, Lucie Rónová
Graphic designer of the exhibition visual: prof. ak. mal. Rostislav Vaněk
Applied artworks:
Dale Chihuly, Ruby Pineapple Chandelier (detail), 2013 © Chihuly Studio
Stanislav Libenský, Kresba / Drawing, 1996 © Libenský – Brychtová rodina
PUBLIC EVENTS
16 June and 25 August / 2 – 5pm
Family art workshop: Shape
24 June and 16 September / 2pm
Guided tour of Stanislav Libenský and Jaroslava Brychtová's architectural realizations in Prague with Pavel Karous
14 July / 2 – 5pm
Family art workshop: Breaking Light
28 July / 2 – 6pm
Open art workshops for DOXie's Children's Day
20 September / 8pm
Projection of the film Space of Light and a discussion with director Jiří Málek and artist Charles Parriott.
22 September / 2 – 5pm
Family art workshop: Breaking Light
* All public events are held in Czech language