Petr Sís: On Flying and Other Dreams
13 Sep 2019 – 24 Feb 2020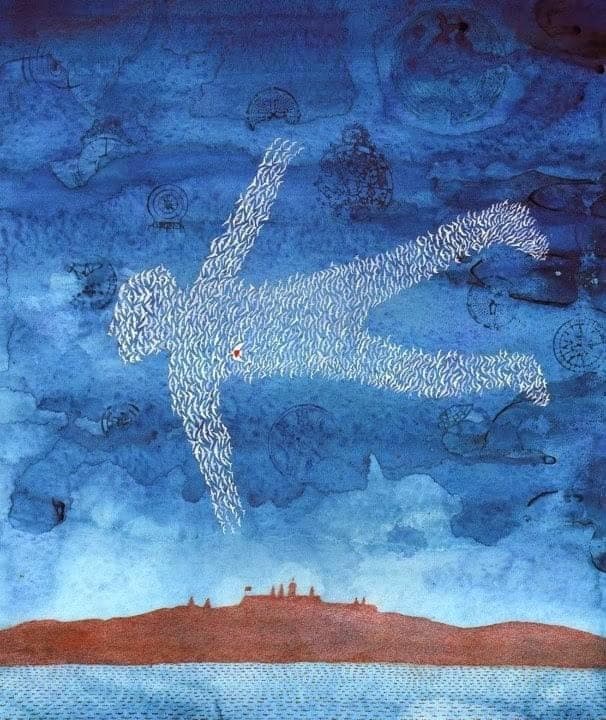 We're open to all,
now also you
Wednesday:
12 p.m. – 6 p.m.
Thursday:
12 p.m. – 6 p.m.
Saturday:
12 p.m. – 6 p.m.
DOX Centre for Contemporary Art
Poupětova 1, Prague 7
Show on map
The world of internationally renowned artist, author, and illustrator Petr Sís is a world of fantasy, great voyages, and adventures, reminiscences, and dreams. The protagonists of his books are adventurers, dreamers, aeronauts, sailors, and travellers – those who had the courage to freely decide, create, dream, and push the limits of human knowledge.
The exhibition project entitled On Flying and Other Dreams will feature five books by Petr Sís that focus on the subject of "inner" and "outer" freedom. The award-winning autobiographical book The Wall – Growing up Behind the Iron Curtain (2008) tells of imaginary and real walls, of a world where freedom remains a mere dream. In The Three Golden Keys (2007), the author returns to the Prague of his childhood. But this time it is a city that in a child's eyes comes alive with legends, dreams, and stories. His version of the Persian poem The Conference of Birds (2011) as well as the books The Pilot and the Little Prince (2014) and Robinson (2017) touch upon universal questions concerning human freedom and its importance.
On the occasion of the thirtieth anniversary of the Velvet Revolution, the exhibition is thus a message that individual freedom is a fundamental value that cannot be taken for granted, and that its gradual and inconspicuous erosion poses a real threat to contemporary society.
Exhibition by: Michaela Šilpochová, Leoš Válka, Ivana Brádková
Petr Sís is an internationally renowned writer of children's books, illustrator, graphic artist and a creator of animated films. He was born in 1949 in Brno and grew up in Prague. He studied painting and filmmaking at the Academy of Applied Arts in Prague and the Royal College of Art in London. He came to America in 1982, where he started illustrating for periodicals like New York Times and soon began writing books. Since then he has been living in New York with his family and regularly returns to his native country.
He received numerous awards for his work all over the world – from the Golden Bear from the Film Festival in Berlin to several medals from the American Library Association. He has won The New York Times Book Review Best Illustrated Book of the Year award eight times and he got two Ragazzi Awards at the Bologna Children's Book Fair. Peter Sís is the first children's book artist to be named a MacArthur Fellow and in 2012 he won the Hans Christian Andersen Award for his lifetime work.
He authored 26 books for children and young adults, he also illustrated more than 60 books, shot 26 animated films, makes posters, objects of art, murals and artwork at public spaces. Among the most famous is the mosaic for the New York underground and giant tapestries at Prague, Dublin and Cape Town airports.
Petr Sís' books are published by Labyrint in the Czech Republic. Children's magazine Raketa is the partner of this exhibition.