THIS PLACE
24 Oct 2014 – 2 Mar 2015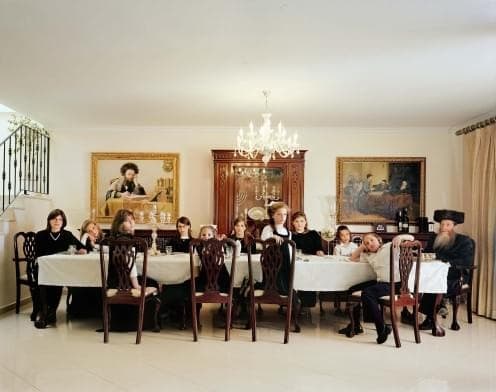 This Place is a monumental artistic endeavor initiated by photographer Frédéric Brenner, who believes that only through the eyes of great artists can we begin to understand the complexities of Israel – its history, its geography, its inhabitants, its daily life – and the resonance it has for people around the world.
Inspired by historical models that gathered artists to ask essential questions about culture, society and individuals, including the Mission Héliographique in 19th-century France and the Farm Security Administration in the United States, Brenner first conceived the idea for the project in 2006. After seeking the advice of a group of international curators, he invited eleven acclaimed photographers to join him in exploring Israel and the West Bank as both place and metaphor.
The 12 photographers participating in This Place are Wendy Ewald, Martin Kollar, Josef Koudelka, Jungjin Lee, Gilles Peress, Fazal Sheikh, Stephen Shore, Rosalind Solomon, Thomas Struth, Jeff Wall, Nick Waplington, and Frédéric Brenner himself. Together, this group represents one of the most original and distinguished collections of artists to ever collaborate on a project, and it is certainly the most acclaimed group of photographers to ever turn their attention to Israel and the West Bank.
Each photographer spent approximately six months in residence, pursuing his or her own artistic interests. Through these residencies, which stretched over four years (2009 to 2013), thousands of original art works were created. These images combine to create not a single, monolithic vision, but rather a diverse and fragmented portrait, alive with all the rifts and paradoxes of this important and highly contested place.
This Place will soon share its collection with audiences around the world. A major traveling exhibition, featuring more than 500 photographs, will open at DOX in October 2014. 
The show is curated by Charlotte Cotton, an internationally recognized curator and former head of the photography department at the Los Angeles County Museum of Art (LACMA). The exhibition, which will remain on view in Prague until March 2015, will next travel to the Tel Aviv Museum of Art (May 14, 2015 to September 6, 2015). In the fall of 2015, the exhibition will come to the United States, where it will be on view at the Norton Museum of Art (October 15, 2015 to January 15, 2016) and the Brooklyn Museum of Art (February 12, 2016 to June 5, 2016). Additional venues will be announced in the coming months.
This Place is also publishing 13 books, including a comprehensive catalog to accompany the exhibition, and individual monographs by each participating artist. The first two monographs, Field Trip by Martin Kollar (MACK) and Wall by Josef Koudelka (Aperture) were published in fall 2013. Frederic Brenner's An Archeology of Fear and Desire (MACK) was published in April 2014, Stephen Shore's From Galilee to the Negev (Phaidon) in May 2014. Them by Rosalind Solomon was published in July 2014 and Nick Waplington´s Settlement in September 2014. The Thomas Struth´s catalogue, the book by Jungjin Lee Unnamed Road and Wendy Ewald´s This is where I live were published in November 2014. The Erasure Trilogy by Fazal Sheikh will be published in 2015 in Steidl publishing. For more information about the books go to this-place.org.
Curator: Charlotte Cotton

Twitter (@ThisPlacePhoto)

This exhibition has been organized by Chronicle of a People Foundation, Inc., New York, and the tour is managed by Curatorial Assistance, Pasadena, California.

Accompanying program:

25 Oct | 11 am – 6.30 pm
12 PERSPECTIVES – Round tables with the This Place photographers
Three special round-table discussions with all 12 photographers participating in the project, offered the opportunity to find out more about their work and experience during their stay in Israel and about the photographs they created for the project. After the discussions there was a chance to attend the guided tour of the exhibition from 5.30 pm.
16 Feb | 6.30 pm
Iraq Through the Eyes of Local Photographers
– a lecture on documentary photography presented by Italian photographer Stefano Carini, the head of Iraq's only photo agency, Metrography, will reveal what is behind the stories that make it into the media from today's Iraq
26 Feb | 6 pm
– an encounter with photographer Josef Koudelka, whose monumental work belongs to the apex of contemporary photography, will offer a unique opportunity to get to know more about his exceptional work, but also the circumstances under which it was created

24 Oct 2014 – 2 Mar 2015

An educational programme for students who will use digital tablets in the exhibition to create their own story, their own reality. 
24 Oct 2014 – 2 Mar 2015

An educational programme for students offers to take pictures through which they will speak of themselves, the place, and the work itself. 
Other accompanying events (family workshops, discussions, student contest...) are mostly held in Czech language and you can find them here: http://www.dox.cz/cs/vystavy/this-place 
Photos from the exhibition opening, 23 October 2014.