Essential Changes
7 Jun 2021, 7:30 PM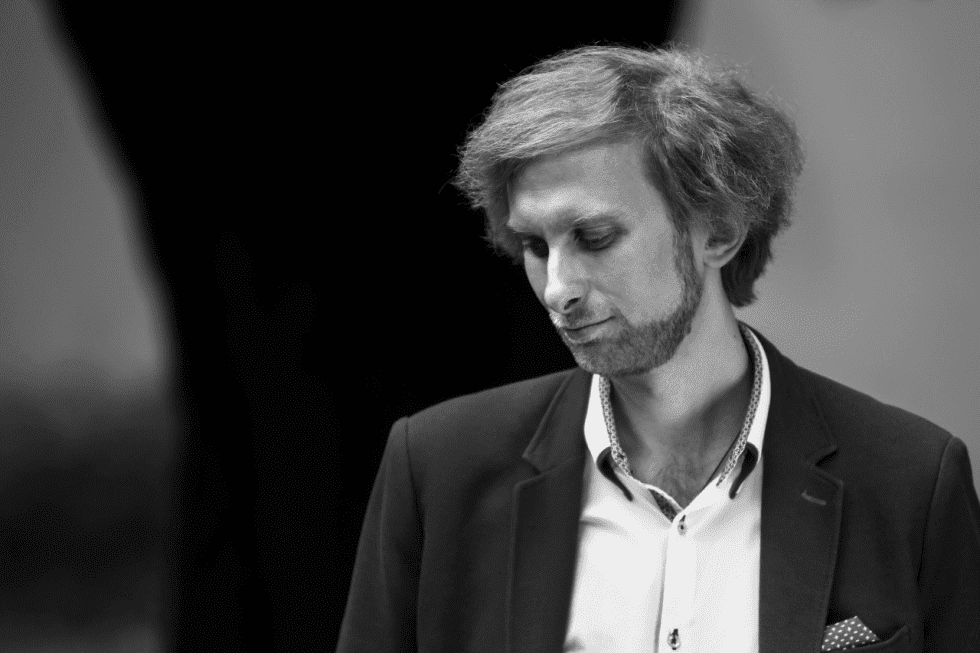 Let's get straight to it, before we divert you
Tickets: basic CZK 300 | students, seniors CZK 200

Concert will be also streamed on YouTube, Facebook and Instagramu of Ostrava Center for New Music.
Multifunctional Hall DOX+
Poupětova 3, Prague 7
Show on map
In 1934, when Arnold Schönberg told his student John Cage that Cage's problems with the traditional concept of composition would stand in his way like a wall, the 22-year-old Cage replied, "Okay, then I'll be pounding my head on that wall my whole life." His Concert for Piano and Orchestra (1957–1958) is based on a completely non-traditional relationship between soloist and orchestra. There are no motifs or thematic work and there is no score – the work is a collection of individual parts that are played independently of each other. The piece leaves no room for a soloist to demonstrate their virtuosity, who in this case will be world-famous pianist Ivo Kahánek.
La Monte Young works with very simple musical material. His now legendary Composition 1960 # 7influenced the music scene of the 1960s, including the works of Cage and his followers, as well as the minimalist movement.
Like John Cage, Petr Kotík's compositions avoid traditional harmony and form. Since the early 1960s, hiscompositions have dealt with the concepts of music and time in novel ways. In 1964, he began to collaborate with John Cage; five years later, after his arrival in the USA, Kotík also began collaborating with La Monte Young and Ben Patterson. By the early 1970s, Kotík was composing using a method of pulsating tempo / time without determining a beginning or end – he also used this method in his 2004 piece The Plains at Gordium. In addition to the six percussionists of the Ostravská banda, soprano Irena Troupová will perform.
Benjamin Patterson and Yoshi Wada are two important members of the FLUXUS movement, which was based on the rejection of the traditional concept of artistic creation. Their efforts to break these persisting norms were reflected not only in their music, but in the presentation and conception of their works. One of the impulses for the emergence of the FLUXUS movement was a series of lectures that John Cage gave at The New School in New York from 1958-59. Compositions / happenings by Patterson and Wada will open and close the concert.
Performers:
Ivo Kahánek, piano
Irena Troupová, soprano
Ostravská banda
Petr Kotík, conductor
Programme:
Yoshi Wada: Lip Vibrators (1973)
John Cage: Concert for Piano and Orchestra (1957–58)
Petr Kotík: The Plains at Gordium (2004)
La Monte Young: Composition 1960 #7 (1960)
Benjamin Patterson: Paper Piece (1960)
Ivo Kahánek, a native of the Moravian-Silesian Region, a world-famous pianist anchored in a classical-romantic repertoire, discovers the world of avant-garde music thanks to concerts connected to the Ostrava Center for New Music. The evening, where he will perform at the John Cage's Concert for Piano and Orchestra, will be his second artistic meeting with Petr Kotík. Last December, Ivo Kahánek performed two key piano solos in the program Missed Opportunity by PKF – Prague Philharmonia: WU by Rudolf Komorous (2003) and Spontano (1964) by Petr Kotík. He entered into direct, active contact with avant-garde music for the first time. "I want to learn in this repertoire, get to know the contemporary concept of music, be open and find out what it will do to me," said Ivo Kahánek on that occasion.
A few years ago, at the pilot concert of Music in Dialog - Claudio Monteverdi and Luciano Berio at the Berlin State Opera, Irena Troupová definitely became convinced of how attracted to today's music. Since then, in addition to ongoing concerts of so-called early music, he has collaborated intensively with composers such as Marek Kopelent, Ondřej Štochl, Jan Dušek, with ensembles such as BCO, Prague Modern, Berg Orchestra and others. In addition to virtuoso Baroque compositions, her repertoire includes no less virtuoso works by composers such as György Ligeti, Jonathan Harvey, Michael van der Aa and others.
Petr Kotík is an independent composer and musician. His activities have always been guided by an effort to deal with the issues of today's music and to respond to the context and direction of art today. He is known as the founder and initiator of ensembles (eg Musica viva Pragensis, QUaX Ensemble, SEM Ensemble, Ostravská banda, ONO) and a number of projects (eg Music Festival of Extraordinary Lengths, Ostrava Days, NODO / New Opera Days Ostrava, Beyond Cage Festival) . He is the author of symphonic, chamber and opera works, and is the artistic director of the Ostrava Center for New Music. In 2017, he was awarded the Prize of the Ministry of Culture for his contribution to music.