Fresh Memories: The Look
22 Mar – 4 Jun 2023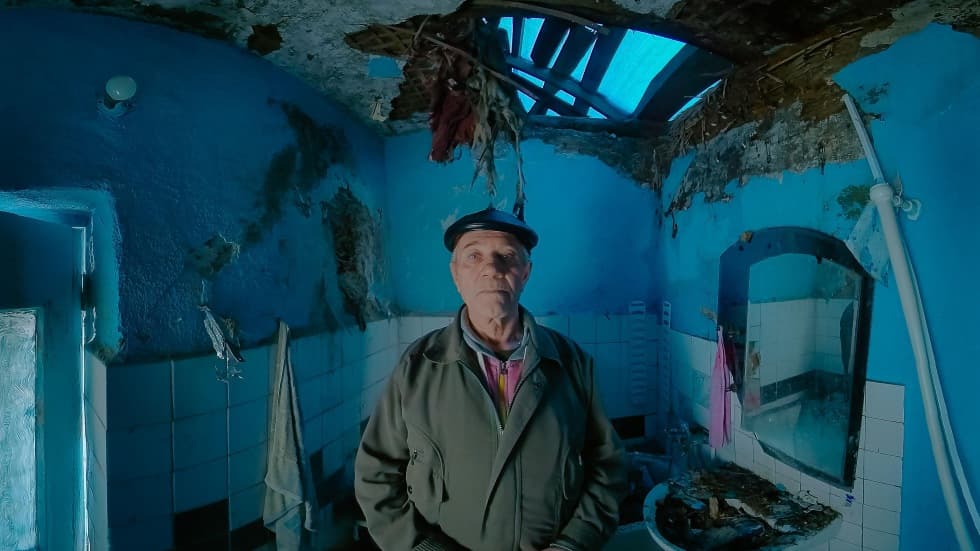 Let's get straight to it, before we divert you
How does it work? The VR installation is part of our exhibition space and can be visited anytime during gallery opening hours.
How long does it last? 10 minutes

What is the admission fee? The screening can be attended with
a valid gallery ticket.
DOX Centre for Contemporary Art
Poupětova 1, Prague 7
Show on map
Can you look into the eyes of those whose homes have been destroyed by war? Fresh Memories: The Look, a short Czech-Ukrainian film, transports viewers through virtual reality to bombed-out Kharkiv. Here, they come face to face with locals affected by the war.
Fresh Memories: The Look focuses on the stories of ordinary people affected by the Russian invasion of Ukraine. Kharkiv is one of the most war-torn cities in all of Ukraine. The film transports viewers to its ruins, to a playground, a hospital, a devastated apartment, where local residents stare long into your eyes. The similarity with the performance "The Artist Is Present" by the world-renowned conceptual artist Marina Abramović is not accidental. By looking the viewer in the eye, the actors convey strong emotions. The experience is further enhanced by the fact that everything takes place without words, with only the authentic sounds of hospital machines or children playing at the playground, even though there are only ruins all around.
What can a simple look awaken in us? Despair, sadness or hope?
The film was made by directors Ondřej Moravec and Volodymyr Kolbasa, produced by the creative studio Brainz Immersive.