HOW CAN I HELP YOU?
10 Mar – 20 Aug 2023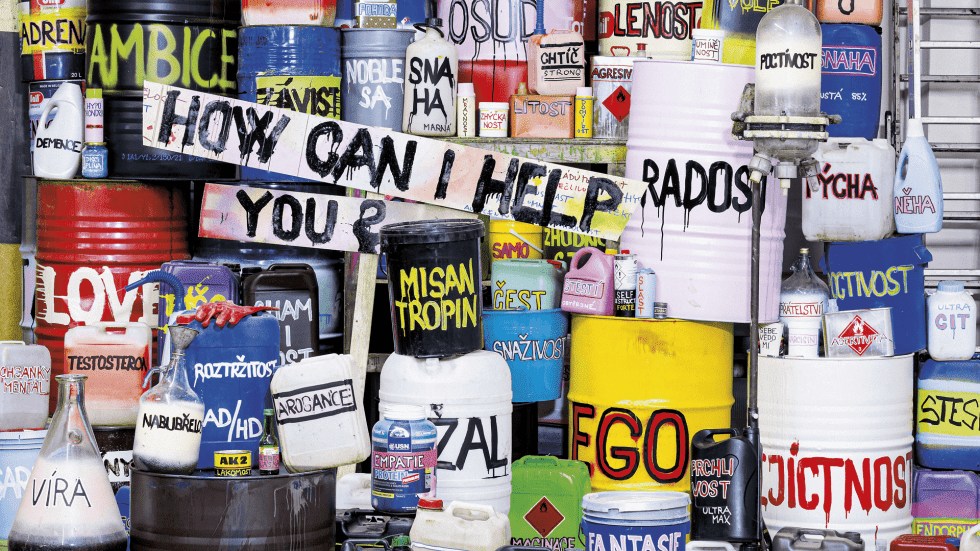 We're open to all, now also you
Wednesday:
12 p.m. – 6 p.m.
Thursday:
12 p.m. – 6 p.m.
Saturday:
12 p.m. – 6 p.m.
DOX Centre for Contemporary Art
Poupětova 1, Prague 7
Show on map
Exhibition How Can I Help You? has a catalogue! You can buy it in the Bendox bookstore or on the e-shop.
Czech and international audiences know Krištof Kintera's work primarily thanks to his sophisticated kinetic sculptures and monumental, technically demanding installations in galleries and public spaces. In the context of his complex projects, it is hard to imagine more classical artistic methods such as drawing.
Nevertheless, Krištof Kintera describes a significant part of his work that he has been continuously working on for almost two decades as "drawings". These are in fact almost three-dimensional works of uniform format that most people would consider to be more like collages or assemblages. For Krištof Kintera, however, they are definitely drawings. This is primarily because of how he creates them - spontaneously, quickly, with ease. He creates these straightforward compositions with limited resources - the found and "consumed" objects and materials of our everyday existence. Text often plays an important role in them. An old pillow with eyes made of burnt-out light bulbs "doubts its contribution to evolution", a crumpled tin sadly announces that it is trying to get itself together every day (Shaping Myself Everyday), a broken TV screen announces with a disappointed expression that "Everything is different". A carved sign with the words "No One Has Anything" have literally been struck with an axe. Simple yet visually striking arrangements, short punchy texts, playfulness, irony, hyperbole.
The way Krištof Kintera composes the individual objects and texts into their final form is reminiscent of the process of drawing itself. They are quick sketches, visual records of thoughts, of what the artist unconsciously stores somewhere in the back compartments of his memory during the day - a fragment of a sentence or thought, an emotion, the colouring of a word, song lyrics, a trite phrase, a piece of an advertising slogan - so that at the first possible opportunity, when he is back in his studio, he can retrieve them and quickly, before he forgets them, get them on paper, or in this case, on a board. Thus, a kind of diary is created - a personal confession of the artist, where he records on individual pages what interests, pleases, frustrates, and frightens him. At the same time, he touches on our own innermost feelings, joys, desires, pains, and fears. He x-rays the tiny fractures of our relationships, listens to the beating of our thoughts with a stethoscope, pokes our egos with a scalpel, and extinguishes common problems with a device eloquently labelled LOVE.
He has made hundreds of drawings over the years, and the diary continues to grow. At the same time, its pages never stay in one place for long. They find themselves in collectors' salons, lawyers' offices, doctors' offices, and private living rooms, where they start living their second life. Now, for the first time - and maybe the last for a long time – they gather on three floors of the DOX Centre tower. A book of wisdom, a wailing wall, an apothecary of virtues and vices? In Shakespeare's words – As you like it. The Diary of Krištof Kintera is here for you. And how can it help you? Judge for yourself.
Curator: Michaela Šilpochová
Exhibition with the artist