Jazz Night in the Air
14 Apr 2022, 7:00 PM
15 Apr 2022, 7:00 PM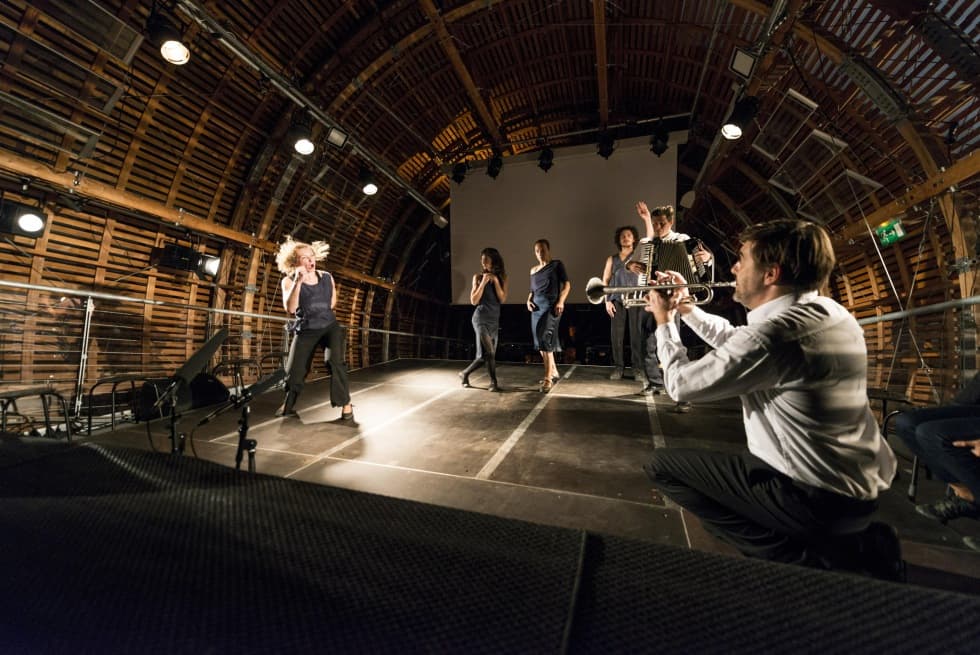 Let's get straight to it, before we divert you
How much is the ticket? CZK 270 | for citizens of Ukraine we offer entry for a symbolic CZK 1. (You just need to show your passport or ID card of Ukraine) | members of the DOX Friends Club free entry
Скільки коштує квиток? Вхід 270 крон | спеціальна ціна для громадян України 1
крона (достатньо пред'явити закордонний чи внутрішній паспорт України)
Gulliver Airship
Poupětova 1, Prague 7
Show on map
Дирижабль «Гулівер»
Poupětova 1, Praha 7
Показати на карті
Contemplative jazz experience on board the Airship Gulliver
The exceptional bassist Rodion Sun Lion was scheduled to play a concert in Slovakia in March with his Slovak-Ukrainian band Charmsove Deti.
At the invitation of his friends, he arrived a few days earlier than he originally intended. His stay was unexpectedly extended indefinitely due to the war.
Aboard the Airship Gulliver, Rodion Sun Lion will be presented in captivating jazz compilations in the company of members of the Farm in the Cave ensemble - top jazz musician Marcel Bárta and singer and performer Hana Varadzinová.
Глибокі джазові враження на палубі дирижабля «Гулівер»

Надзвичайний бас-гітарист Rodion Sun Lion у березні мав зіграти на концерті
разом зі своїм словацько-українським гуртом «Хармсові діти» у Словаччині. За запрошенням друзів музикант приїхав на кілька днів раніше, ніж було
заплановано. Але через війну його візит неочікувано продовжився на
невизначений термін.

На палубі дирижабля «Гулівер» Rodion Sun Lion представить себе публіці у
чарівних джазових компіляціях разом з групою «Farma v jeskyni» – це
першокласний джазовий музикант Марцел Барта та співачка й перформерка
Гана Варадзінова.
Rodion Sun Lion
Rodion Sun Lion was born in Kazakhstan and has lived in Ukraine since 1991. He has been playing bass guitar since he was 16 years old. He studied trombone and tuba at the conservatory. He has played with many bands of different genres: jazz, ethno, rock, metal, experimental music, electronic music. He has three solo albums to his credit. His last performance with his Ukrainian-Slovak band
Charmsove Deti was in Žilina in 2018.
Marcel Bárta
Saxophonist, clarinetist, composer, teacher and artist. An important figure of the Czech jazz and improvisation scene (e.g. Vertigo, Muff, DoMa Ensemble and others). Creator of stage music (Theater Novogo Fronta, Theater Vizita, collaboration with artist P. Nikl). He is a long-term collaborator with
the ensemble Farm in the Cave and co-author of music in many productions and projects of the ensemble. He is a multiple winner of the Anděl award.
Hana Varadzinová
Performer, singer, lecturer. Her professional activity is closely connected with the creation of Farm in the Cave, of which she is a founding member. She has participated in all productions of the company as a performer/singer and assistant director.
Rodion Sun Lion
Rodion Sun Lion народився в Казахстані, з 1991 року мешкає в Україні. На бас-
гітарі грає з 16 років. У консерваторії вивчав гру на тромбоні та тубі. Грав з
низкою гуртів різних жанрів: джаз, етно, рок, метал, експериментальна,
електронна музика. У музиканта за плечима три сольні альбоми. Зі своїм
словацько-українським гуртом «Хармсові діти» востаннє грав у місті Жиліна у
2018 році.

Марцел Барта
Саксофоніст, кларнетист, композитор, педагог і художник. Визначна фігура
джазової імпровізаційної сцени (напр., Vertigo, Muff, DoMa Ensemble та інші).
Автор сценічної музики («Театр нового фронту», театр «Vizita», співпраця з
художником П. Ніклом). Довгий час співпрацює з групою «Farma v jeskyni» та є
співавтором музики в багатьох інсценізаціях і проєктах групи. Кількаразовий
лауреат премії «Ангел» (Anděl).

Гана Варадзінова
Перформерка, співачка, лекторка. Її професійна діяльність вузько пов'язана з
творчістю групи «Farma v jeskyni», однією із засновниць якої вона є. Гана
Варадзінова брала участь у всіх інсценізаціях групи як перформерка/співачка й асистентка режисури.