The Story of the DOX Centre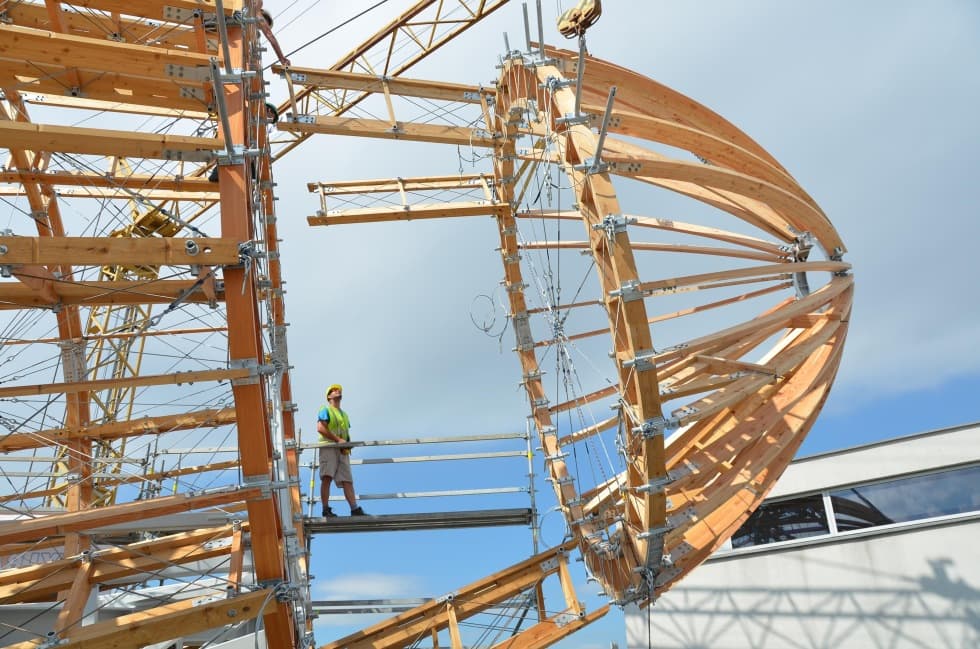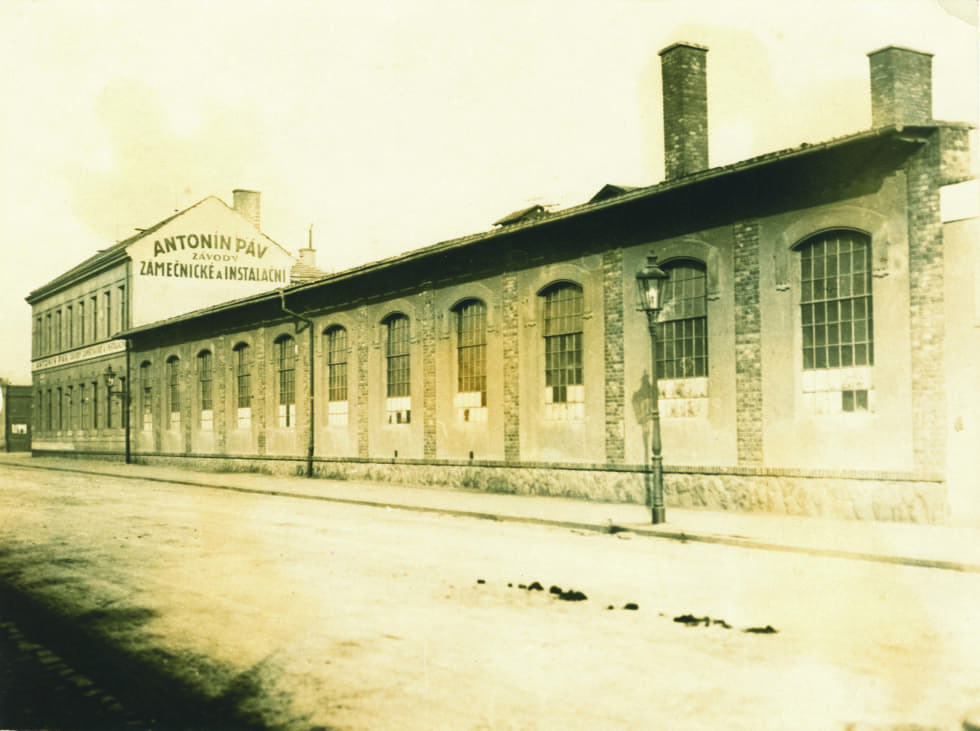 The past
Builder Antonín Žižka built a machine factory for Rossemann & Kühnemann Co. in the newly subdivided Osadní Street in Prague's Holešovice district. In 1901 workshops and an office building, smithery, and paints and oils shed were added. The buildings had a typical industrial appearance - high windows with arches, façades with alternating areas of visible bricks and stucco. In 1920, builder Josef Karhan added another floor to the originally single-storey office building No 793 at the corner of Poupětova and Osadní, with a triangular façade with a segmented window.
Rossemann & Kühnemann then opened a factory producing train wagons and locomotives in Prague's Radotín district under the Ferrovia brand, and the Holešovice factory subsequently changed owners several times. From 1925 it was briefly the home of the Miloš Bondy factory producing Avia aeroplanes. In 1928 it was purchased the Antonín Páv Company, lock smithery and plumbing works. The corner office building was reconstructed by František Troníček, foreman for Nekvasil Co., who added a floor with a rooftop patio above the tract on Osadní Street. By 1930 Nekvasil's company designed an adaptation of the compound for Páv Company, including the addition of a floor above the workshops facing Poupětova Street. In 1939 František Troníček designed new workshops - a long two-wing, reinforced concrete building with a basement, with the shorter edge facing Osadní Street. After nationalization, the state-owned ZUKOV Company was located here. In 2002 the building was purchased by Leoš Válka.
The present
The project that finally created an optimum space in Prague for the exhibition of contemporary art was not created thanks to the state or city, but rather thanks to the initiative of individuals, Leoš Válka and his business partner Robert Aafjes. Leoš Válka, who had returned to the Czech Republic after spending 15 years abroad and had started a mid-sized business in the area of residential construction and reconstruction, realized the unique potential of this industrial building had to become a centre for contemporary art. However, he had insufficient capital to finance he construction of the DOX Centre for Contemporary Art, and as time went on it was necessary to find additional investors. Válka was joined by Václav Dejčmar, Libor Winkler, and Karel Janeček, who are currently among the most prominent patrons of the arts in the Czech Republic.
The DOX Centre has been fulfilling its mission as a non-governmental, non-profit, and non-collecting institution since 2008.
The DOX Centre building is an example of top-notch international contemporary architecture, in which three respected Czech architects gradually became involved.
The internationally respected project involving the re purposing of an old Holešovice factory into a multi-function space with over 3000 m2 of exhibition areas, a café, a bookshop, and a design shop is the work of architect Ivan Kroupa. In 2008 DOX was nominated for the prestigious Mies van der Rohe Award, and the The Phaidon Atlas of 21st Century World Architecture included it among the most interesting architectural projects of the past decade worldwide.
In 2016 a unique architectural intervention called the Gulliver Airship "landed" on the roof of the DOX Centre. The 42-metre long steel and wood structure inspired by the elegant lines of early twentieth-century airships, which was a collaborative design effort by DOX founder Leoš Válka and internationally renowned architect Martin Rajniš, became a meeting point for contemporary art and literature.
The latest phase of the DOX Centre's development is the new DOX+ multifunction hall, used for theatre, performances, contemporary music, film, or conferences. The facility, with top-notch acoustic parameters, telescoping seating, and a separate rehearsal room was designed by respected architect Petr Hájek. The project resulted in another nomination for the prestigious Mies van der Rohe Award.
The main characteristics of the resulting structure - a plurality of perspectives and viewpoints, flexibility, unification of old and new, interconnection of structural exteriors and interiors and their dialogue with the immediate vicinity makes it an example of first-class architecture that simultaneously also permits a singular programmatic focus.
While in early years the focus was primarily on exhibition projects and their accompanying programmes, as time went on, it broadened to include additional genres. Like a number of similar institutions in other countries, DOX gradually grew from its original "kunsthall" concept into a true cultural centre with a scope and focus that has no equal unique on the contemporary Czech cultural scene.
The current programme interconnects and oversteps the boundaries of visual art, literature, theatre, and contemporary music. Exhibition projects, lectures, debates, conferences, film projections, theatre performances, and many other formats all follow a common thread: an effort to develop critical contemplation and discussion of current social issues and questions. DOX also offers a unique model of informal education and programmes for families with children.
DOX is an environment that facilitates encounters, development, and inspiration through varied perspectives. Today, when more and more people tend to think dangerously alike, art's capacity to suspend, even for a moment, our habitual ways of seeing may be its greatest value.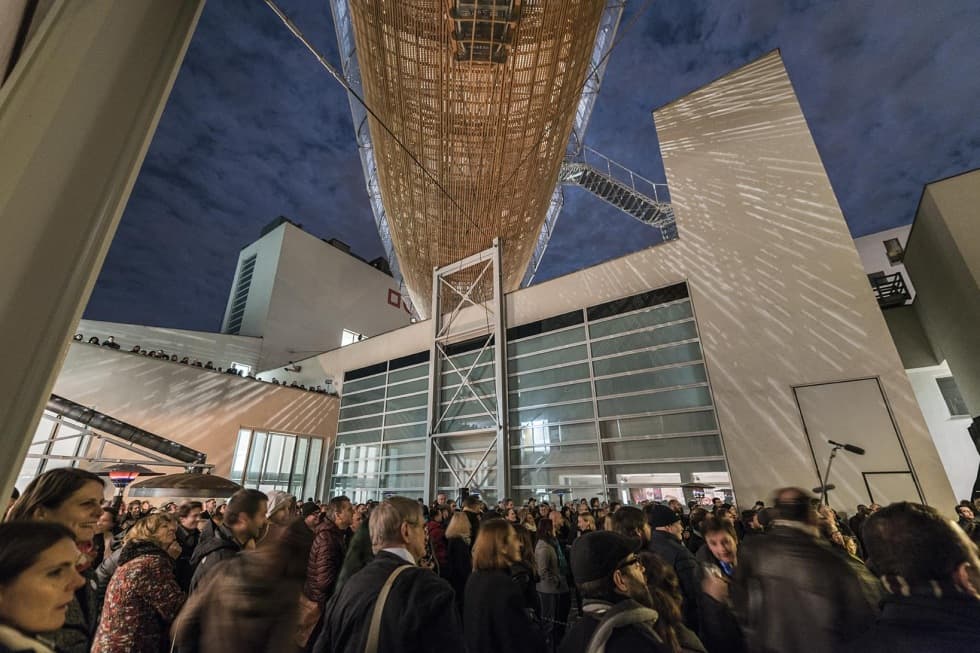 The future
In order for the story of the DOX Centre to continue, support and money are needed. Its existence, like that of of all similar institutions around the world, depends on the support of the public, donors, sponsors, and corporate partners. We live in a time when we are afraid that we ourselves still do not have enough. We live in a time when that which cannot be measured, counted, evaluated, or predicted is not risked.
DOX is a story that runs counter to this "reality". There are a thousand reasons to not participate, to wait... but the story won't wait. DOX is a story of a vision that is becoming reality. We're looking for partners - companies, organizations, and individuals, who have the courage to support a visionary project with international scope. Become a part of the story of the DOX Centre.
DOX is more than
a gallery

In 2018 the DOX Centre was enlarged to include the DOX+ multifunctional hall, a state of the art facility designed by the Petr Hájek Architekti studio. It is used primarily for stage arts - theatre, dance, music, film, or performance art.

A unique architectural intervention opened above the DOX Centre, inspired by the elegant lines of early twentieth-century airships. The 42-metre long steel and wood structure became a meeting point for contemporary art and literature.