Architecture of Stories
14 – 16 Sep 2023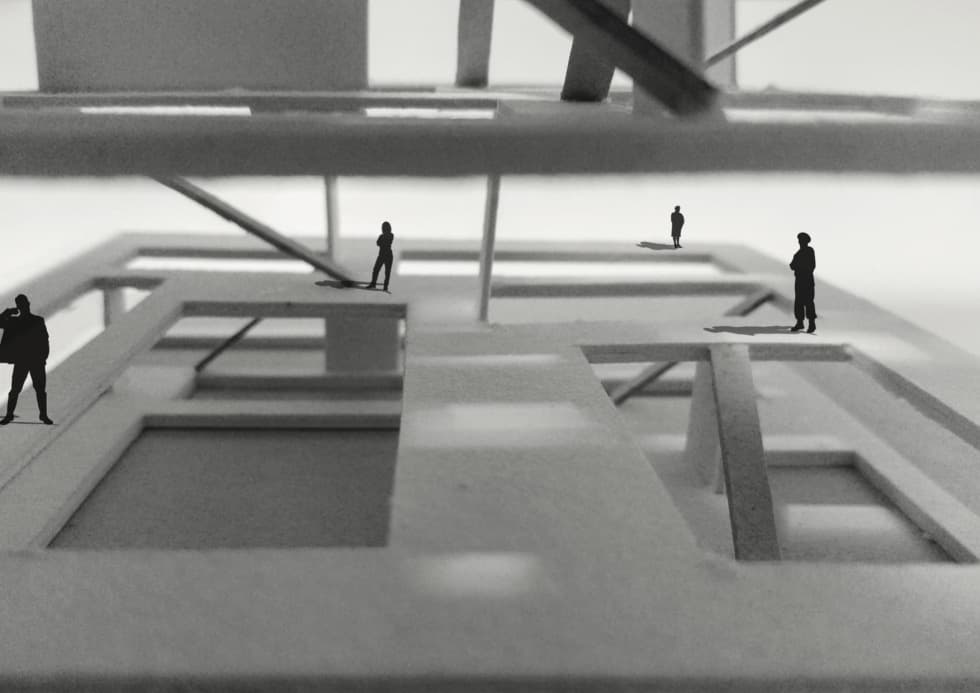 Let's get straight to it, before we divert you

When? 14–16 Sep 2023, 5:00 p.m.–8:30 p.m. | presentation date 17 Sep 2023, 12:00 a.m.
What language? English and Czech
How to sign up? Register using the form below.
How much does it cost?Participation fee CZK 1700 (Includes free admission to all DOX exhibitions and, free admission to the lecture by Matteo Pericoli a 20% discount on a day ticket to the FALL festival.)
What about members? 30% discount for DOX Club members
The workshop takes place as part of the FALL festival.
DOX Centre for Contemporary Art
Poupětova 1, Prague 7
Show on map
A cross-disciplinary workshop exploring literature as architecture with Matteo Pericoli & Anna Beata Háblová
Have you ever thought of literature as architecture? What is the "architecture of a story"? How does it stand? Can it be built? As part of FALL Festival, you have a unique chance to do just that. Are you an architect or a student of architecture? An established or emerging writer? An ardent reader? Or do you perhaps have no experience with architecture or literature but are simply curious enough to try something you have never tried before?

Then this extraordinary, playful, one-of-a-kind workshop is just for you. Join architect, illustrator, teacher, and founder of the Laboratory of Literary Architecture Matteo Pericoli and architect, poet, and visual artist Anna Beata Háblová in this exciting exploration of literature as architecture. The three-day workshop will be followed by a presentation and an exhibition at the DOX.
We will design and build an architectural model whose spatial organisation is based on the inner structure of a piece of literature (a short story).
Each group of participants (2–3 people) will work on one story from a series of texts shared in advance. We will analyse it together, focusing on its structure, to get to its very core elements.
If the text is a tree and its words the leaves, we will shake it so that it sheds its leaves and only its structural or emotional skeleton remains.
We will break down the text's main elements and examine their importance and role in relation to the overall structure of the story and then determine how all of this can be translated into architecture. If necessary, we will make sketches to help visualise the design. However, we will start building the structure almost immediately in order to render the basic elements of the text in three dimensions.
We will use paper, pencils, cardboard, scissors, tape, and box cutters. The goal is to dig deep into each text in order to reveal its architectural and structural essence as each participant/group perceives it. The resulting architectural project will not be a literal representation (i.e., a three-dimensional description of the spaces or locations described in the story) but rather a literary representation which expresses the essential ideas of the text's structure in a spatial form.
If the project is successful, anyone who encounters the architectural model should be able to perceive the emotions and sensations of the story's intangible structure, without necessarily knowing what it is.
In addition to an architectural model, each group will write a short text about the project, the process, and how the literary text relates to the architectural design.
First session: Matteo Pericoli will present his work and introduce the concept of the workshop. The participants will be put into groups and will begin by discussing the texts they have selected to work on. We will immediately start thinking about the texts in structural terms.
Second session: The design phase will intensify, and we will work on the first study models. By the end of the session, each group will have defined a rough design for their final project and begun to think about and draft the text they are going to write.
Third session: We will work on the final model and try to reinforce all the connections with the literary text as well as look for any design ideas that seem to deviate from it. Each choice should have an intrinsic tie to the text and an explanation. Work will continue on the presentation text. Both the final model and the text should be completed (or nearly completed) by the end of this session.
Fourth session: This session will mostly be dedicated to the public presentation of the projects. If necessary, we will have some extra time (prior to the presentation) to put the finishing touches on the final models and, if necessary, on the texts. We will also prepare for the final presentation by rehearsing each group's presentation.
Matteo Pericoli is an architect, illustrator, and teacher. He is the author of various books, including Windows on the World: 50 Writers, 50 Views (Penguin Press, 2014), Manhattan Unfurled (Random House, 2001), The City Out My Window: 63 Views on New York (Simon & Schuster, 2009), and London Unfurled (Picador UK, 2011) as well as several children's books. After graduating from the Polytechnic School of Architecture in Milan in 1995, he moved to New York, where he worked at, among other places, architect Richard Meier's studio. In May 2007 Pericoli completed Skyline of the World, a 120-metre-long mural for the American Airlines terminal at John F. Kennedy International Airport. His work has appeared in various publications, including The New York Times, The Observer, The New Yorker, and La Stampa. He has taught at the New York Institute of Technology and Saint Ann's School (Brooklyn, NY). In 2010 he founded the Laboratory of Literary Architecture, a workshop he has held in many institutions around the world. He currently lives in Turin, where he was a visiting professor at the Polytechnic School of Architecture. His project Windows on Elsewhere: 60 Refugees, 60 Views, which he realised in collaboration with Art for Human Rights, was completed in 2021, and he recently published The Great Living Museum of the Imagination: A Guide to the Exploration of Literary Architecture (Il Saggiatore, 2022).
Anna Beata Háblová is a writer, poet, slammer, architect, and urban planner. She won the Young Architect Award in 2010 and the Young Planning Professionals Award in 2012 for her architectural designs and theoretical work. In 2017 she published a popular science book, Města zdí [Cities of walls] (Dokořán, 2017), about the history, interpretation, and background of shopping centres in relation to cities. Since 2018 she has been preparing reports on architecture for Czech Radio and since 2020 also for Czech Television. Her most recent book, Nemísta měst [Nonplaces of cities] (Host, 2019), crosses the borders between genres and explores neglected, ephemeral, and passed over places. She has also written four collections of poetry. Her poems and short stories have appeared in the literary journals Host, Tvar, Weles, Pandora, and others and have been translated into several European languages. In 2021 she had two exhibitions of her poems – Unspeakable at Artwall Gallery and Haiku Against Hopelessness at the Church of Our Lady of Victories. She is a committee member of the Writers' Association. Her first novel Směna [Shift] was published in 2022 by Host.