CDD: Children's Day at DOX
30 Jul 2022, 2:00 PM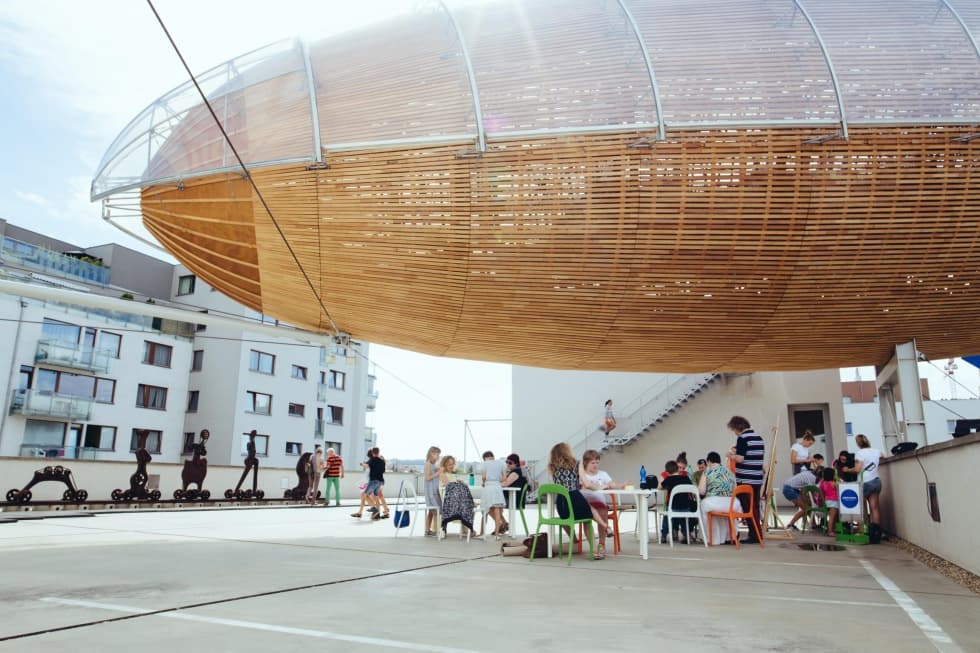 Let's get straight to it, before we divert you
For whom? For children and adults ages 5 and up

How much are tickets? CZK 140 for adults, CZK 100 for children | special price for Ukrainian families CZK 1 (Tickets can be purchased on-line or at the DOX Centre ticket desk.)

And what about members of the DOX Friends Club? Free for those with a family membership

For how long? The programme will run from 2:00 p.m. to 6:00 p.m.
DOX Centre for Contemporary Art
Poupětova 1, Prague 7
Show on map
Open art workshops for the following exhibitions: Power(less), MADe IN CHINA, and Věra Nováková's Via vitae and with the Hadry [Rags] theatrical performance from the Spielraum Collective. The programme is also open to families from Ukraine.
Several art workshops located throughout DOX will once again be linked by a (non)contest, in which everyone will have the chance to win by playing with various art assignments in all kinds of disciplines. Starting at 4 p.m., you'll be able to take a break from pure creativity to take in an excellent performance by the Spielraum Collective entitled Hadry [Rags]. An approximately hour-long "ode to joy" for children from 5 to 10 years of age. Two performers and two musicians. Four, all told - four stops with inspiration through design and contemporary art!
Maps
An open art workshop for Power(less)
At some point back in 1963, out of boredom, Jerry Gretizinger began to draw the buildings in his town from a bird's-eye view. As his town grew, he realized that he'd have to feed its residents somehow. So he began to paint fields, meadows, and rivers, thus creating a basis for a fictive territory he calls Ukrania. He spent twenty years working on the map, and returned to it again after he retired, so today Jerry's map consists of a total of 3600 panels, a large part of which are exhibited in the Power(less) exhibition. In the workshop we won't be concerned with area, but if everyone contributes their perspective and their part, the result will also be a large map! This kind of shrinkage and perspective that maps require are part of both summer and flying.
Flyers
Open art workshop for BADIUCAO: MADe IN CHINA
During the school year, this exhibition by exiled Chinese artist Badiucao was a favourite among students, and with smaller children it's worth seeing too. Badiucao criticizes what's bad not only in his native land with great passion and humour. Even though he says he's a coward, he shows that it's good to have your eyes open and not put up with everything. In his art he draws attention to problems in many ways, one of which is graphic design - the right images and words. You can try it too in the workshop entitled Flyers. Are you troubled by something? Angry? Annoyed? Create flyers that won't be useless! The right images and the right words.
Letters
An open art workshop for Věra Nováková's Via vitae
While Badiucao's exhibition was being prepared at DOX, so was Věra Nováková's And because both the young artist and his experienced female counterpart have much in common due to their resistance to totalitarianism, it was natural for them to meet at DOX and talk about their work. They each have a completely different approach, and it would be a shame to not take advantage of the opportunity. While the Flyers workshop works with letters in two dimensions, the letters in the Letters workshop will go into three dimensions. They'll be your letters, and try to give them you own expression, name, and perhaps even a story too. Along the way, in Věra Nováková's exhibition, you'll find lots and lots of inspiration.
Rags
A musical material theatre for families with children from the Spielraum Collective
Foot in sleeve, head in pant leg, hand through, inside-out, upside-down, front to back. Straighten, stretch, pull, wind, tangle. What's "right" on the money? Two for three... four... five. Johnny, your sweater's alive! Am I a princes, a chicken, or a dragon? Playing (with) the bass, body, voice, and rags This ode to playfulness for children from 5 to 10 years of age and their parents, loosely inspired by fast fashion and the work of Austrian artist Erwin Wurm starts at 4 p.m.