Festival Contempuls 2019: Trio Catch
1 Dec 2019, 7:00 PM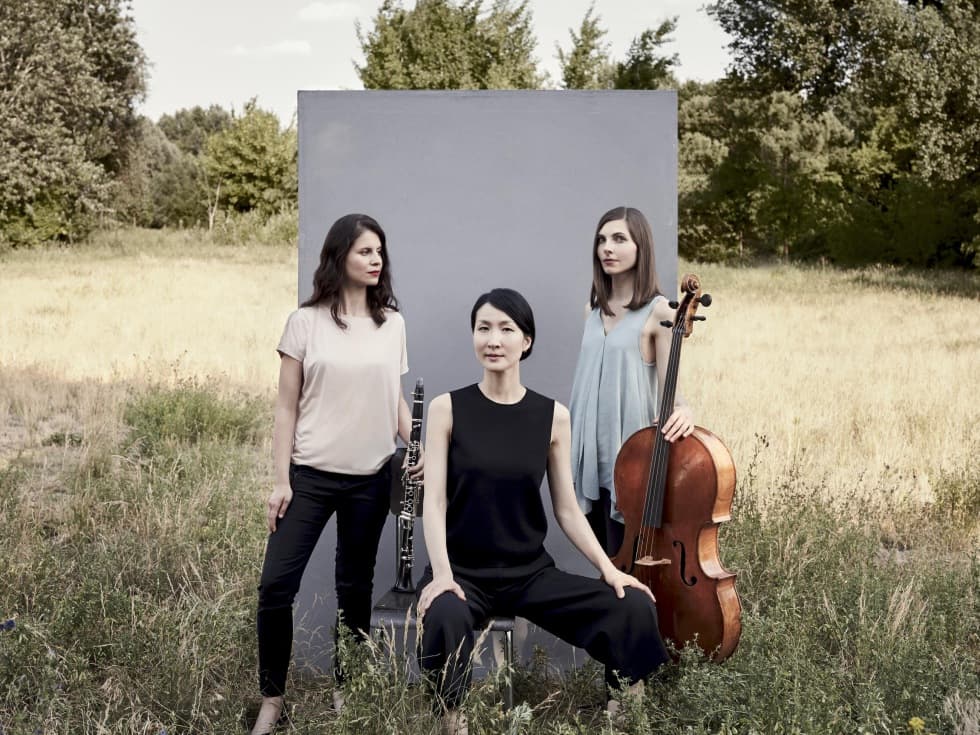 Let's get straight to it, before we divert you
Tickets: Adults 350 CZK | students and seniors 250 CZK
Concerts: Catch Trio + POING: 600 CZK | 500 CZK
Festival pass 1 100 CZK | 1 000 CZK
Multifunctional hall DOX+
Poupětova 3, Praha 7
Show on map
Boglárka Pecze – clarinet, Eva Boesch – violoncello, Sun-Young Nam – piano
The Hamburg-based Trio Catch is composed of instrumentalists from Hungary, Switzerland, and South Korea. They met as participants of the International Ensemble Modern Academy in Frankfurt. During its six years of operation, the ensemble – named after a piece by Thomas Adès – began collaborating with established composers including Georges Aperghis, Beat Furrer, or Helmut Lachenmann, performed at the most important European festivals for contemporary music, and recorded a number of CDs for the Kairos and col legno labels. Among their highlights of the previous season are concerts at the Elbphilharmonie in Hamburg, the Pierre Boulez Saal in Berlin, and premieres of new works by Georg Friedrich Haas, Milica Djordjević, and Mikel Urquiza in the Cologne Philharmonic. In Prague, the ensemble will perform a world premiere of a new piece by Czech composer Jakub Rataj commissioned by the Contempuls festival, and two pieces central to its repertoire – Greek composer Georges Aperghis' Trio and the half-hour Sounds, Archeologies, written for the ensemble by German middle generation composer Isabel Mundry.
Georges Aperghis: Trio
Jakub Rataj: nová skladba na objednávku festivalu Contempuls – světová premiéra
Isabel Mundry: Sounds, Archeologies
About the festival:
This year will see the tenth edition of the Contempuls Festival. Although this first jubilee might make us prone to stock taking, we won't be looking into the past. As is tradition, the festival will present the newest – and, in our opinion, the most interesting – items from the world of contemporary music. Among the pillars of the dramaturgy is the Czech premiere of a collaborative, hour-long stage work by composer Martin Smolka and director and librettist Jiří Adámek, Vor dem Gesetz (Before the Law), based on the eponymous short story by Franz Kafka. It was created in close cooperation with the German ensemble ascolta, operating on the boundaries of concert, theatre, and instrumental opera. As usual, the programme also includes world premieres. Jakub Rataj's IOI for Trio Catch is a festival commission, while Japanese pianist Satoko Inoue will play an unperformed part of Luboš Mrkvička's piano cycle For the Piano. Another first performance will be a suite from The Four Seasons, composed for the Norwegian trio POING by Danish composer Bent Sørensen. Like in previous editions, there will also be classic works from the second half of the 20th century: Jo Kondo's Sight Rhythmics, Morton Feldman's last work for piano, Palais de Mari, or Georges Aperghis' Trio for clarinet, cello and piano. As for the character of the concerts, the tenth edition will be extraordinarily diverse. The spectacular performance by ascolta is a sharp contrast to the introverted recital by Inoue, the concentrated playing of Trio Catch continues in the best traditions of ensembles specialising in new music, while POING represents a more relaxed and experimental approach.