Thin Skin
23 Oct 2022, 7:00 PM
24 Oct 2022, 7:00 PM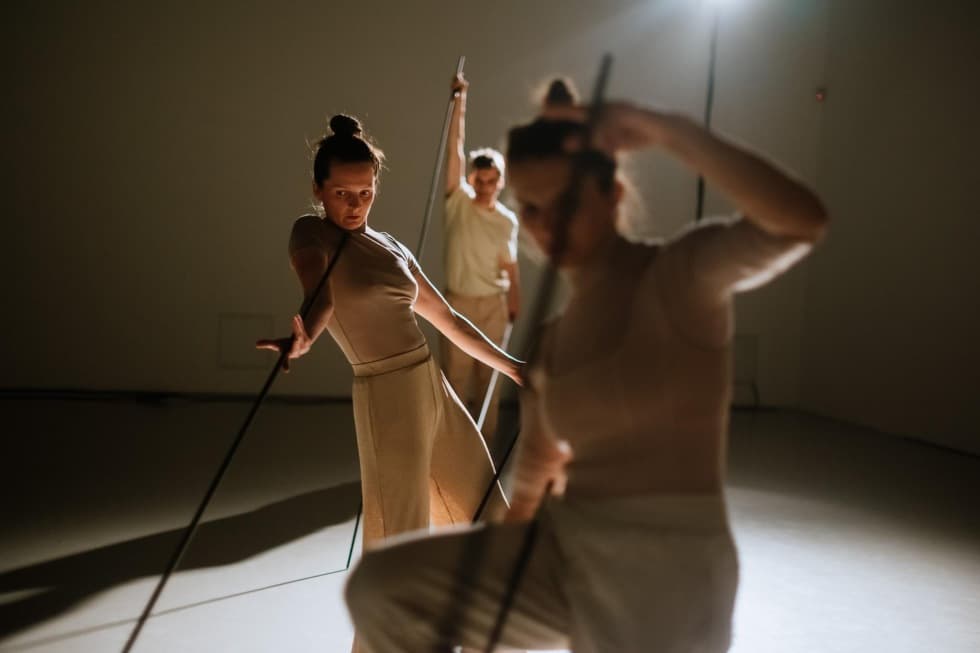 Let's get straight to it, before we divert you
How much is the ticket? basic CZK 340 | students and seniors CZK 250
Auditorium
Poupětova 1, Prague 7
Show on map
The performances of the established circus acrobat Eliška Brtnická are characterized by techniques that are more common in contemporary foreign circus than on the domestic scene. Moreover, her work is characterized by distinctive artistic elements.
In her performance Thin Skin, the artist searches for original forms of the suspended trapeze. Ones that open up new possibilities for the movement of the human body, which together create a unique atmosphere and bring a deeper message. In Thin Skin, Eliška Brtnická creates kinetic installations of "levitating" thin bars and human bodies. Body and material - two elements in one space, whose existence depends on each other. In the performance, three performers (Eliška Brtnická, Alžběta Tichá, Filip Zahradnický) thoroughly examine their centre of gravity and the centre of gravity of the rods. Everything is a cruel question of time. The moving sculptures disappear as quickly as they appeared. The body imprints itself in matter, the image in the mind, time bends. Thin Skin is fragility, vulnerability, instability.
In collaboration with the DOX Centre for Contemporary Art and in its impressive spaces, a hypnotic production was created at the intersection of live installation and contemporary circus.
concept, direction: Eliška Brtnická
creation and performance: Alžběta Tichá, Filip Zahradnický, Eliška Brtnická
sound design: Stanislav Abrahám
light design: Martin Špetlík
costumes: Tereza Kopecká
materials: Prokop Vondruška
consultations: Ilona Jäntti, Stéphanie N'Duhirahe, Markéta Vacovská, Hana Turečková
process documentation: Kateřina Korychová
photo: Jan Hromádko
video: Kryštof Čížek
producent: Cirkus Mlejn, z.s.
coproduction: DOX
supported by: The City of Prague, Ministry of Culture Czech Republic
partners: KD Mlejn, Cirqueon, Diod Jihlava, Metropolis.dk