Galegion: Utopian City
14 Feb – 23 Aug 2020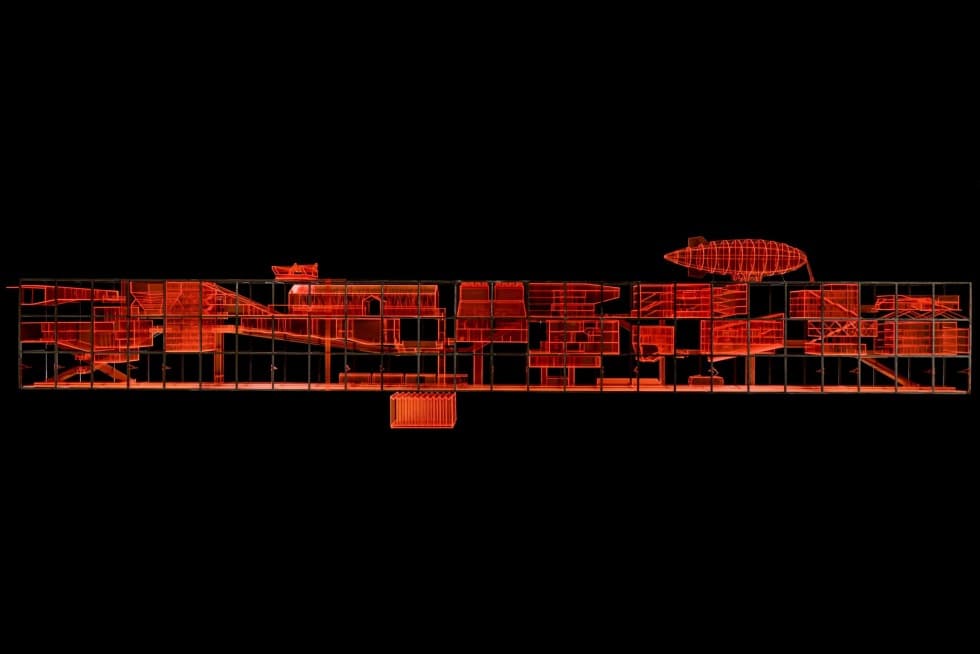 We're open to all, now also you
Wednesday:
12 p.m. – 6 p.m.
Thursday:
12 p.m. – 6 p.m.
Saturday:
12 p.m. – 6 p.m.
DOX Centre for Contemporary Art
Poupětova 1, Praha 7
Galegion is a 10-year research project that has joined together students of the Faculty of Architecture of Czech Technical University in Prague and Academy of Fine Arts and Design in Bratislava, in departments led by renowned architect Petr Hájek (Dpt. Hájek/Hulín at FA CTU, Virtual Studio Department Hájek/Rypáková at AFAD). It seeks to introduce new methods of urban planning and test them in various locations.
The exhibition at DOX Centre presents the results of the Galegion research using several projects of Utopian cities.
One of these "composite cities" has also inspired the title of the exhibition. Galegion combines a film archive, museum and gallery. The word galegion, which integrates the three meanings, has been coined by mathematician and theorist Ivan M. Havel.
Other locations shown at the exhibition include a future city in the Shackleton crater, which could become the base for humankind's permanent presence on the Moon; the Guggenheim Museum in Salzburg, Austria – an underground city in a space carved out from solid rock, 150 metres underground; the concept of a linear city, designed as a doctoral research project by architect Nikoleta Slováková; or the Adriaport project – an artificial island near the Adriatic Coast, with a 400-kilometre connecting tunnel to Czechia, designed in 1977 by architect Karel Žlábek for the state company Pragoprojekt, which had never come to fruition due to a Soviet intervention.
Theoretical framework for some of our projects was provided by architects and theoreticians Monika Mitášová and Marián Zervan.
In 2015, Hájek's department created the Urbo Kune project, inspired by Austrian architect and theoretician Jan Tábor and his concept of a common European city, which should not be designed based on regulations and typology, but "composed" in the same way music is created. The Urbo Kune project inspired writer Miloš Urban to write an eponymous novel taking place in the fictional city.
"We feel a strong need to use utopic environments as an aid for defining basic hypotheses. Among the Czech academia, the concept of Utopia has somehow become an unflattering synonym for architecture that is fanciful, imaginary and unreal. I have often been told that such concepts have no practical usefulness. That is an opinion I strongly disagree with. Most of the projects we have designed and implemented started out as Utopias," says Petr Hájek. His distinctive, experimental approach with an emphasis on the interdisciplinary (combining such fields as music, dance, or mathematics) has won him widespread acclaim. In 2018, the Czech Chamber of Architect granted him the Architect of the Year award.
Exhibiton by Leoš Válka and Petr Hájek
Born in Karlovy Vary in 1970, Petr Hájek graduated from the Faculty of Architecture of Czech Technical University in Prague and the School of Architecture at the Academy of Fine Arts in Prague. Together with Tomáš Hradečný and Jan Šépka, he started the architectural firm HŠH Architekti in 1998. In 2009, he founded his own architectural firm Petr Hájek ARCHITEKTI. His major completed projects include the redesign of the Upper Square in Olomouc (1); adaptation of the square outside the St. George's Basilica at the Prague Castle (2); Archdiocesan Museum in Olomouc (3); alterations of the castle complex in Litomyšl (courtyard, gardens, stables, carriage house, riding hall, multi-purpose hall) (4); KCEV – Krkonoše Mountains Environmental Education Centre (5); addition of the DOX+ building to the Centre for Contemporary Art (6); renovation of the Old Water and Observatory Tower in Prague (7); or the Lucerna Palace rooftop decks (8). Hájek's projects have won him a number of Czech and international awards (Society of Czech Architects' Grand Prix Award, Freiraum no2 European Award, Bauwelt Preis, Project of the Year, The Club for Old Prague Award, Rudolf Eitelberger's Award, Piranesi Prize – honourable mention; 4-time nominee for the Miese van der Rohe Award; Sustainable Architecture Award Ferrara – honourable mention).
Since 2004 Hájek has been teaching at the Faculty of Architecture of Czech Technical University in Prague, where he was appointed professor in 2017. Since 2012 he has led his own department at the Academy of Fine Arts and Design in Bratislava. He is the founder and director of the Art-Now Foundation for Supporting Art and Talent, and founder of the LEA Association (Experimental Architecture Lab). For his teaching contribution to the "anastomosis" research project in urban planning, he has won the 2012 CTU Rector's Award for applied research. He has organized a number of exhibitions, both in Czechia and abroad (Prague, Liberec, Oslo, Vienna, Paris, London, Bratislava, Venice). In 2018, Petr Hájek became the Architect of the Year Award.
(1) Association of architects Hájek / Hlásek / Šépka, collaborators: Vít Máslo, Jana Zlámalová
(2) Petr Hájek / Tomáš Hradečný / Jan Šépka, HŠH architekti, s.r.o., collaborators: Martin Hradečný, Jana Zlámalová
(3) Petr Hájek / Tomáš Hradečný / Jan Šépka, HŠH architekti, s.r.o., collaborators: Jan Vinař, Martin Maršík, Jan Kolář, Rastislav Komínek, Simona Kučírková, Lucie Vogelová, Ondřej Hofmeister, Jana Zlámalová
(4) Petr Hájek / Tomáš Hradečný / Jan Šépka, HŠH architekti, s.r.o., park concept co-authors: Lucie Vogelová and Radka Šimková, terra florida, co-author of acoustic design: Martin Vondrášek, Soning, collaborators: Jan Kolář, Helena Línová
(5) Petr Hájek ARCHITEKTI, s.r.o., Petr Hájek, collaborators: Helena Línová, Michal Volf, interiér: Cornelia Klien, Andrea Kubná, Ondřej Lipenský, Helena Línová, Martin Prokš, Martin Stoss, Michal Volf, information system and logo: Kristina Ambrozová, structural design: Jan Kolář
(6) Petr Hájek ARCHITEKTI, s.r.o., Petr Hájek, Martin Stoss, Benedikt Markel, Cornelia Klien, Tereza Keilová, Leoš Válka
(7) Petr Hájek ARCHITEKTI, s.r.o., Petr Hájek, Martin Stoss, Tereza Keilová, Benedikt Markel
(8) Petr Hájek ARCHITEKTI, s.r.o., Petr Hájek, Martin Stoss, Cornelia Klien, Tereza Keilová, Ondřej Kobza