In The City
10 Jul – 25 Oct 2020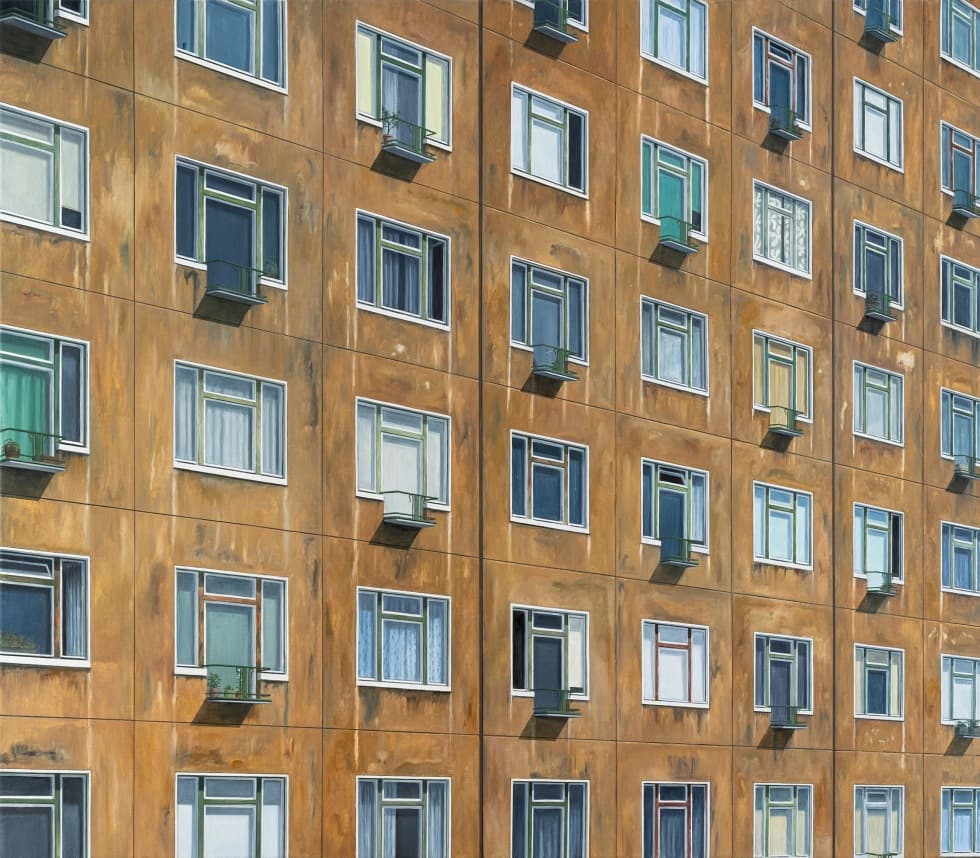 We're open to all, now also you
Wednesday:
12 p.m. – 6 p.m.
Thursday:
12 p.m. – 6 p.m.
Saturday:
12 p.m. – 6 p.m.
DOX Centre for Contemporary Art
Poupětova 1, Praha 7
Show on map
Exhibition is extended to 26 October 2020.
Ivana Lomová paints Prague. Or rather, she paints the memories imprinted on today's Prague, picking spots that still carry the distinct atmosphere of the so-called "normalization era", the years of her childhood and adolescence. She discovers streets and houses, passageways and parks, the long corridors of office buildings and hospital waiting rooms, where the joy and sadness of those that once walked here has left an indelible mark. Memories of the past are often imprinted on seemingly unremarkable things: the front door of a building; the tuft of dry grass between the cobblestones; the scuffed corner down the street. It is those little things that are best suited to preserve memories, sealing them in seemingly unremarkable shapes. A single look can evoke thousands of flashbacks, or tell a whole story.
Ivana Lomová's paintings are like time capsules. You can take out a letter, break the seal and start reading a message sent from the past to the present. Perhaps it is even a letter that you once wrote yourself, long forgotten and found again – in a painting.
Ivana Lomová has an eye for such messages from the past; she can both read them and transform them into her paintings. Her paintings are a kind of report on a Prague that is slowly disappearing. Lomová focuses on details and objects with a strong emotional charge, capable of triggering and evoking memories. Despite a certain degree of sentiment, Lomová's paintings are unusually understated and prosaic. The emotion they provoke is subtle, undemonstrative. The Prague of Lomová's paintings is ordinary, shabby and silent, rather than flashy and eloquent. The artist can make the best of this seeming imperfection, using silence to speak for itself, even if the message is quiet and anxious. Lomová's paintings faithfully reflect her genuine, deep love for her city. Perhaps that is what makes them so powerful.
Ivana Lomová (*1959) came to painting in a very roundabout way. Instead of traditional training at an art academy, she studied architecture. Since the late 1980s she has focused on illustration, comics, cartoons and graphic art. Around the year 2000, her artistic inclinations naturally culminated in her photo-realistic paintings.
exhibition curator: Milena Slavická