Uroboros Festival 2021
5 – 18 May 2021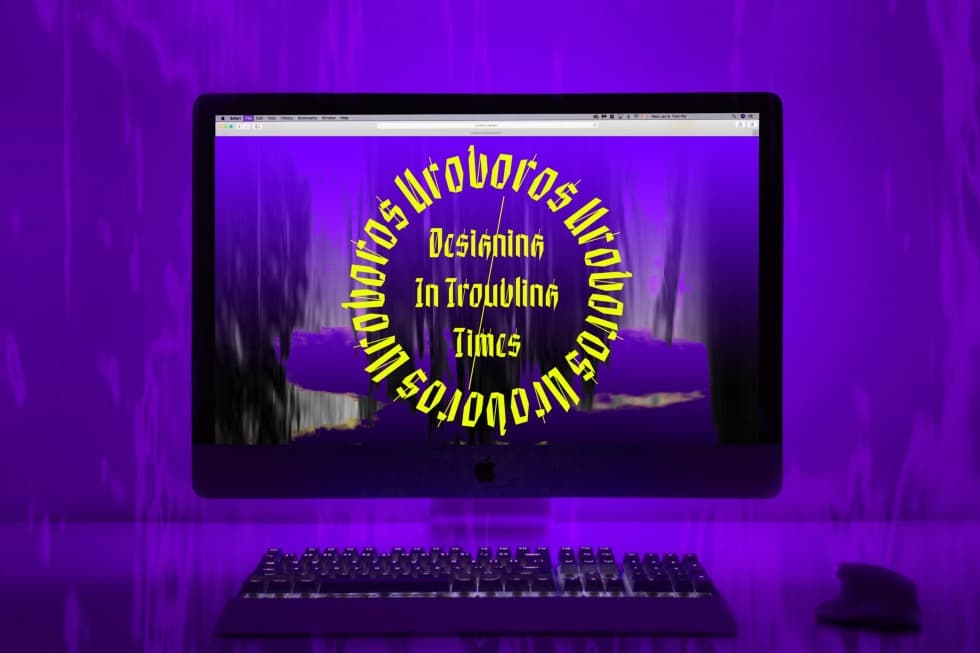 Let's get straight to it, before we divert you
The Uroboros Festival will take place online from 5 to 18 May 2021
Two weeks of online lectures, discussions and performances
For registration, the programme, and more information see www.uroboros.design
In its second year, the Uroboros festival of critical and socially engaged design will once again search for answers to the question of how design can help us in an unsettling time of social and ecological crises. The symbol of Uroboro – a mythical snake eating its own tail – is an appropriate image for this peculiar time, illustrating cyclical frustration, the inability to escape from a vicious circle, and the promise of an end as well as a new beginning.
Design is all around us and impinges on all areas of human and non-human life – be it as physical products, services, systemic processes, biological structures, or imaginary constructs. In light of this omnipresence, design has an ambivalent social impact. On the one hand, it is one of the causes of the global socio-ecological crisis, contributing to structural inequalities, technological surveillance, and the gradual infestation of the planet. On the other hand, however, design can be seen as a promising driver of social transformation. Thanks to its aesthetic and conceptual potential, design has an imaginative, provocative, and critical function: it has the ability to create experimental spaces for the exchange of experience, knowledge, critical reflections on the current social situation, and speculation regarding possible futures.
This year's festival features four interwoven programme sections focused on synthetic media, experimental "feral" design, algorithmic control, and design nonsense as methods for self-reflective critique. The section focused on synthetic media will pose questions on the nature of creativity in the context of artificial intelligence in both art and design through lectures, panel discussions, and workshops. Artist and theoretician Joanna Zylinska will focus on the topic of algorithmic creativity and will present her hypothesis that human creativity has always been based on cooperation or even symbiosis between the human mind/body and technology.
The section entitled experimental "feral" design focuses on the possibilities of creative cooperation between human and non-human actors. In her Cyano Automaton workshop, Polish artist Agnieszka Pokrywka familiarizes participants with issues of cultural colonization in a terrestrial and extra-terrestrial context and presents her interactive DIY bioreactor, which cultivates spirulina (a so-called food of the future, suitable for astronauts and Mars colonists). Along with spirulina cells, Agnieszka's bioreactor also cultivates stories of cultural colonization. Here, the horrible processes of colonization, typically motivated by the human desire for power, are "narrated" and interpreted here from the perspective of a single-celled organism and machines.
The festival section focusing on design nonsense reflects critically on the socio-political position of contemporary design and its obsession with generating profits by creating nonsensical and non-functional technological "solutions" for complex social problems. In his lecture, Professor Andrew Hugill will propose a role for pataphysics – an absurdistic, pseudo-scientific, and literary concept, whose essence defies direct definition – in this "crazy" context of of contemporary design, and how pataphysics can help disrupt the established formulae of our anthropocentric understanding of the world.
The section focusing on algorithms will examine the topic of blockchain from an artistic perspective Martin Zeilinger will speak about the aesthetic phenomenon of non-fungible tokens (NFT), and the Diffraction Collective will introduce to the audience the world of predictive markets. Famous Italian hacker Jaromil will present a strategy for achieving algorithmic sovereignty.
The Uroboros Festival is being produced under the curatorial guidance of Michal Kučerák, Lenka Hámošová, and Markéta Dolejšová, and with the assistance of Tereza Lišková, Denisa Reshef Kera, and Enrique Encinas.
The online programme consists of: Leonardo Parra Agudelo (COL), Cristina Ampatzidou (GR/NL), Katarína Balážiková (SK), Isabel Beavers (USA), Andrea Botero (COL/FI), Care-full Design Lab (Kate Geck & Jaz Hee-jeong Choi & Siobhan McCarthy) (AUS), City as Spaceship (Jennifer Cunningham & Sue Fairburn (UK/CAN), András Csefálvay (SK), Crawlers (Lyndsey Walsh & Jess Cockerill) (AUS/DE), Pinar Demirdag (USA), Dominika Čupková (SK), DADA.NYC (Beatriz Ramos & Judy Mamm & Lenara Verle & Sparrow) (USA), Anna Desponds & Philo van Kemenade (PL/NL), Diffraction Collective (CZ), Markéta Dolejšová (CZ/FI), Agapetos Fa'aleava & Lan Thanh Ha & Naputsamohn Junpiban & Natasha Narain & Kavita Gonsalves (AUS), Palo Fabuš (SK), Časopis Fůd (Barbora Müllerová & Veronika Homolová & Lucia Žatkuliaková & Valentine Gallardo & Nuka Horvat) (CZ), David Green & Joseph Lindley & Zach Mason (UK), Amira Hanafi (EG), Hermetechnics Inc. (Karin Valis & Jakub Fiala) (SK), Andrew Hugill (UK), Zuzana Husárová & Ľubomír Panák (SK), Lena Chen (USA), International Dog Internet Research Institute (Ben Kirman & Conor Linehan & Shaun Lawson) (UK), Denis "Jaromil" Roio (IT), Josef Jelačič (CZ), Chris Kore (NL), Dominika Knoblochová (CZ), Jakub Lanc (CZ), Lukáš Likavčan (SK), Dr D. Little & Dr Wu (USA), Laura Lotti (AUT), Maraki (SK), Miranda Marcus (UK), Roman Novotný (CZ), Nadia Piet (NL), Agnieszka Pokrywka (PL/FI), Mary Ponomareva & Chris Kore & Entangled Others (NL), Kateřina Přidalová (CZ), Dominik Suchý (SK), The Blackwood Incident (SK), Vesmír a technická obsluha (SK), Vrtačky po desáté hodině (SK), Nadia Campo Woytuk & Marie Louise Juul Søndergaard & Karey Helms (SE/NO), Iryna Zamuruieva & Elliot Hurst (UK), Martin Zeilinger (AUT), Joanna Zylinska (UK)

The project is part of the #Datamaze project, an extended exhibition format in which the concept of an exhibition as a work in progress is combined with a workspace and library for activities and development of cooperation across areas and topics related to critical reflection on our existence in a digital environment, and with a lecture space.