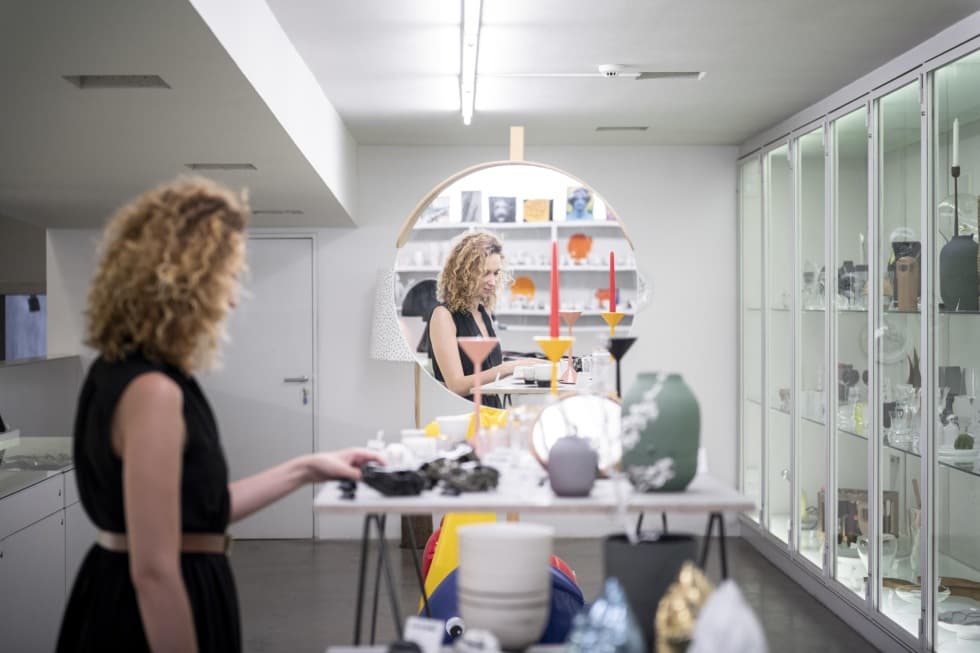 Feast your eyes and shop throughout opening hours
Wednesday:
2 p.m. – 9 p.m.
Thursday:
12 p.m. – 6 p.m.
Saturday:
12 p.m. – 6 p.m.
Under the official name of DOX by Qubus, Jakub Berdych has opened an unprecedented commercial gallery concept. The shop features the absolute best of Czech design and conceptual art, and already during the course of its short existence it has received the highest available awards in its field - the Design Academy named it "Shop of the Year" during the Czech Grand Design Awards 2008.
Within the minimalist premises of the DOX Centre for Contemporary Art by architect Ivan Kroupa, work by iconic Czech glass, porcelain, and jewellery designers is concentrated in one place. Its interior, with exhibition furniture designed by the Qubus studio, fits into the building's overall character due to its simplicity, which allows exhibited objects to be the focus of all attention.
Czech designers

Qubus, Jakub Berdych, Maxim Velčovský, Cockerel, Antonín Hepnar, Belda Factory, Daniel Piršč, Eva Eisler, Janja Prokić, Křehký, Kutulu, Rudolf Rusňák, Libuše Niklová, Jiří Pelcl, Milan Pekař, Rony Plesl, Věra Nováková, René Roubíček, Vjemy, Nalejto, Jiří Krejčiřík, Tyformy, Jiří Šibor, Klára Šípková, Karla Olšáková, Hanuš Lamr, Lucie Houdková, Adéla Pečlová, Adéla Schicker, Michaela Gorcová, Eva Růžičková, Cableart, Hana Polívková, Nicole Taubinger, Anina Jewellery, Dick Wolf, Kateřina Matěchová, Dana Bezděková, Geometrica, Tadeáš Podracký, Krikri, Ana Jožová, Ivan Komárek, Roman Šedina, Modernista, Sebastian Kitzberger, Hidden Factory, Lukáš Houdek, Jindra Viková, LLEV, Kovap, Mikov, Fatra and more.

International designers

David Shrigley, Patrik Illo, Aleksandra Stencel, Punkt, Next, Lladró, MEJD studio, Thorsten Van Elten, Vitra, Casio, Vilac, Tannia Klimenko, Yu-Lin Huang, Mi-Won McGhee and more.