Brandt Brauer Frick Ensemble
1 Nov 2022, 8:00 PM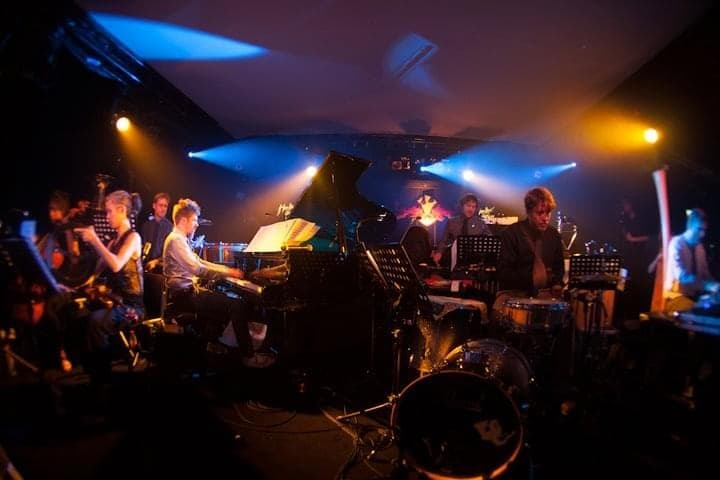 Let's get straight to it, before we divert you
How much is the ticket? 1st category CZK 900, 2nd category CZK 700 | children up to 6 years of age have free admission
Is the concert hall barrier-free? Yes, the wheelchair access will be guaranteed.
The concert is organized by Prague Sounds festival.
Multifunctional hall DOX+
Poupětova 3, Prague 7
Show on map
Berlin electro-classical pioneers bring a full acoustic ensemble to Prague Sounds for a live performance of their most enduring compositions.
Daniel Brandt, Jon Brauer, and Paul Frick are classically-trained musicians from Berlin whose groundbreaking work in electronica has brought them international acclaim. Bringing the rigour of classical musicianship to the electronic realm, their music has been described as 'concert hall compositions for the clubbing generation' by the BBC. . They came to prominence as a trio with their debut album You Make Me Real (2010), which showcased their minimalist techno-influenced work and bore witness to their musical roots in its use of piano, glockenspiel, and drums amidst the electronic elements. The music had an industrial, dancefloor feel, but its more organic elements also gave it soul.
It was perhaps unsurprising that the Brandt Brauer Frick project subsequently expanded into a live acoustic ensemble: a 10-piece mini-orchestra comprising piano, harp, trombone, tuba, violin, cello, three percussionists, and a Moog synthesiser. Live performances with the ensemble reveal the inherent complexity of the music, and demand the utmost concentration of the players, both in terms of strictness of tempo and instrumental nuance. The ensemble is equally at home in classical concert halls (Konzerthaus Vienna, Lincoln Center, London South Bank) as it is on major festival stages (Glastonbury, Coachella). Brandt Brauer Frick also continue to perform as an electronic trio on club and festival stages internationally.
The Brandt Brauer Frick ensemble, in its merging of acoustic and electronic sensibilities, is proof that good music will always resist easy definition by genre.
'Concert hall compositions for the clubbing generation.'
BBC