Evergreen Open Air Cinema
7 Jul – 25 Aug 2022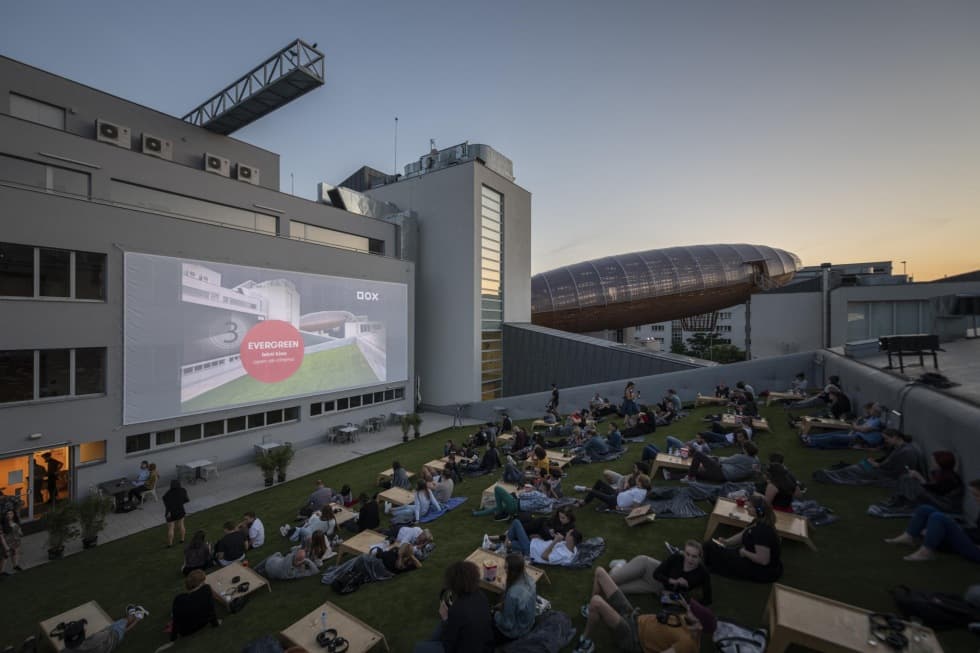 Let's get straight to it, before we divert you
When? Every Thursday at 9:30 p.m. | starting 7 July

How much are tickets? CZK 160 | members of the DOX Friends club free (please make a reservation)

How can I buy a ticket? Tickets can be purchased on-line, on the day of the movie until 7:00 p.m., or from 8:00 p.m. at the DOX Centre's ticket desk (Poupětova 1).

What if it rains? In case of bad weather, the movie projection will be cancelled. If the movie hasn't started yet, we'll refund your money.
Terrace DOX+
Poupětova 3 – DOX+ entrance
Show on map
Picking a good film is an art. And at DOX, we know a bit about art.

Come to the Evergreen summer cinema on the grass roof of the DOX+ hall and enjoy film nights with us in the middle of the city on the big screen with great sound, summertime drinks, and art films you won't see just anywhere.

Programmes:
7 | 7 Last Year at Marienbad / L'Année dernière à Marienbad (FR, IT)
director: Alain Resnais (1961, 94 min)
21 | 7 On Chesil Beach (UK)
director: Dominic Cooke (2017, 110 min)
28 | 7 Stefan Zweig: Farewell to Europe / Vor der Morgenröte (GER, AU, FR)
director: Maria Schrader (2016, 106 min)
4 | 8 Wings of Desire / Der Himmel über Berlin (GER, FR)
director: Wim Wenders (1987, 127 min)
11 | 8 Ghost Dog: The Way of the Samurai (USA)
director: Jim Jarmusch (1999, 116 min)
18 | 8 The Diving Bell and the Butterfly / Le Scaphandre et le papillon (FR)
director: Julian Schnabel (2007, 107 min)
25 | 8 Dolce Fine Giornata / Słodki koniec dnia (PL, IT, FR)
director: Jacek Borcuch (2019, 92 min)
8 | 9 The Lives of Others / Das Leben der Anderen (GER)
director: Florian Henckel von Donnersmarck (2006, 137 min)
We present the films in original version with Czech subtitles.
The films Das Leben der Anderen, Vor der Morgenröte and Der Himmel über Berlin are being screened as part of the Das Sommerkino project in collaboration with the Goethe-Institut.