Klangforum Wien I.
27 May 2022, 8:00 PM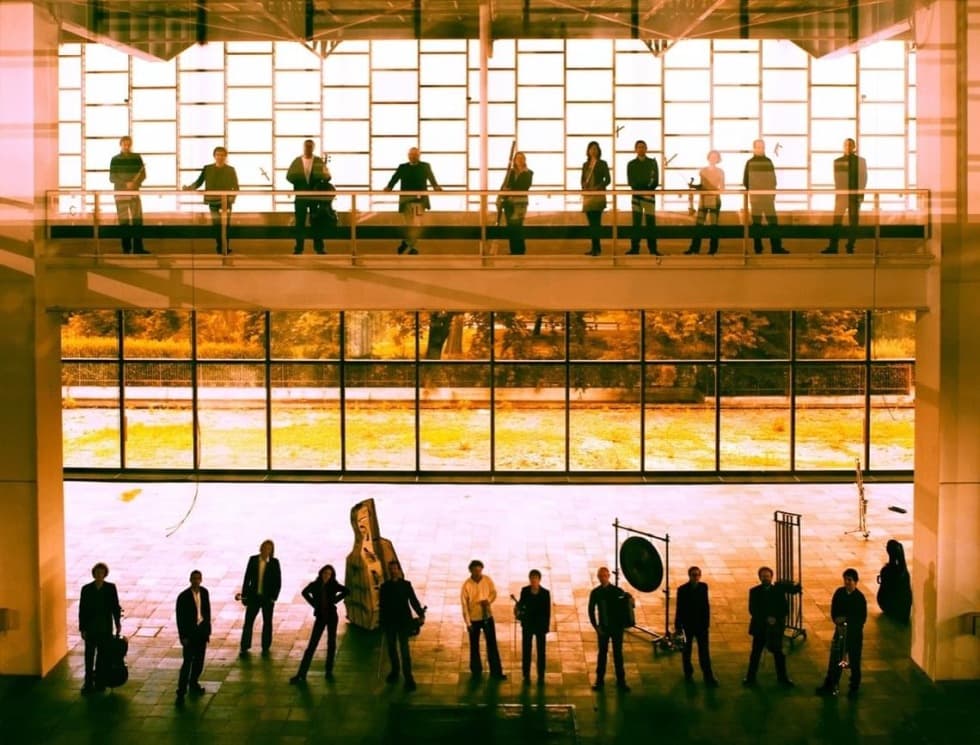 Let's get straight to it, before we divert you
How much is the ticket? CZK 500
We invite ticket holders to a Pre-Concert Talk with composers Olga Neuwirth and Martin Smolka from 6.30 pm to 7 pm in Gulliver Airship.
Concert is a part of the Prague Spring festival.
Multifunctional hall DOX+
Poupětova 3, Prague 7
Show on map
The first concert programmed for the new Prague Offspring format will begin – naturally – with the music of Composer-in-Residence Olga Neuwirth. "Klangforum Wien will perform two of her works," says Programme Director Josef Třeštík. "In addition to her composition for piano and CD incidendo/fluido the programme also includes her masterpiece for trumpet and ensemble …miramondo multiplo…" Neuwirth wrote the piece for Swedish trumpeter Håkan Hardenberger, the Vienna Philharmonic and Pierre Boulez, who performed it in its original orchestral version at the Salzburg Festival in 2006. Festival visitors will also hear music by Italian composer Clara Iannotta, whose piece a stir among the stars, a making way constitutes a new addition to the Austrian ensemble's repertoire. "One of the highlights of the evening will undoubtedly be the world premiere of Angel Steps, written by Martin Smolka as a commission for the Prague Spring," Třeštík tells us. "The title can be considered on various levels, it has various evocative indicators," Smolka himself comments on the premiere. "Behind Mníšek you'll find Malá Svatá Hora (Little Holy Mountain) and, from there, the road used to form a kind of natural flight of steps to the village of Voznice – fifty metres along the flat, then fifty metres down the hill, and so on, about five times in all. And this road was known as Angel Steps. The title also conveys something tangible, and you can hear the whirring and wailing of a Škoda MB loaded down with stuff. Childhood, parents, the Sixties and Seventies with all their whackiness. And, amid that atheistic wretchedness, were the Angel Steps of Little Holy Mountain."
Programme
Olga Neuwirth: incidendo/fluido
Martin Smolka: Angel Steps (world premiere of a work commissioned by the Prague Spring)
Clara Iannotta: a stir among the stars, a making way
Olga Neuwirth: ...miramondo multiplo...
Performers
Klangforum Wien
Bas Wiegers - conductor
Florian Müller - piano
Anders Nyqvist - trumpet
Klangforum Wien was established by composer and conductor Beat Furrer in 1985, since which time the ensemble has fundamentally influenced the contemporary music scene. It works closely with some of the world's most distinguished composers and, through its commissions, it supports the genesis of a series of new works. Over the last thirty-five years or more, Klangforum Wien has become one of the most respected world ensembles specialising in contemporary music and has expanded into an important institution incorporating a variety of activities, from its own magnanimous projects and its involvement in what are often full-length multimedia works, to various educational ventures. The ensemble's recording catalogue contains more than seventy CDs, and they have premiered over five hundred new compositions, including works that are now considered iconic, such as in vain by Georg Friedrich Haas or the opera Lost Highway by Olga Neuwirth. Klangforum Wien is regularly invited to principal international festivals and concert venues in Europe, the United States and Japan, they have won numerous awards, and they collaborate with first-rate conductors. Today Klangforum Wien comprises 24 musicians from ten different countries. Highlights of their current season include performances at Wiener Festwochen, Acht Brücken and ManiFeste in Paris. The ensemble appeared at the Prague Spring in 2018, when they presented works by Enno Poppe and Bernhard Lang and also gave the world premiere of a new composition by Luboš Mrkvička commissioned by the festival.