Stockhausen: Aus Den Sieben Tagen
26 Apr 2022, 7:00 PM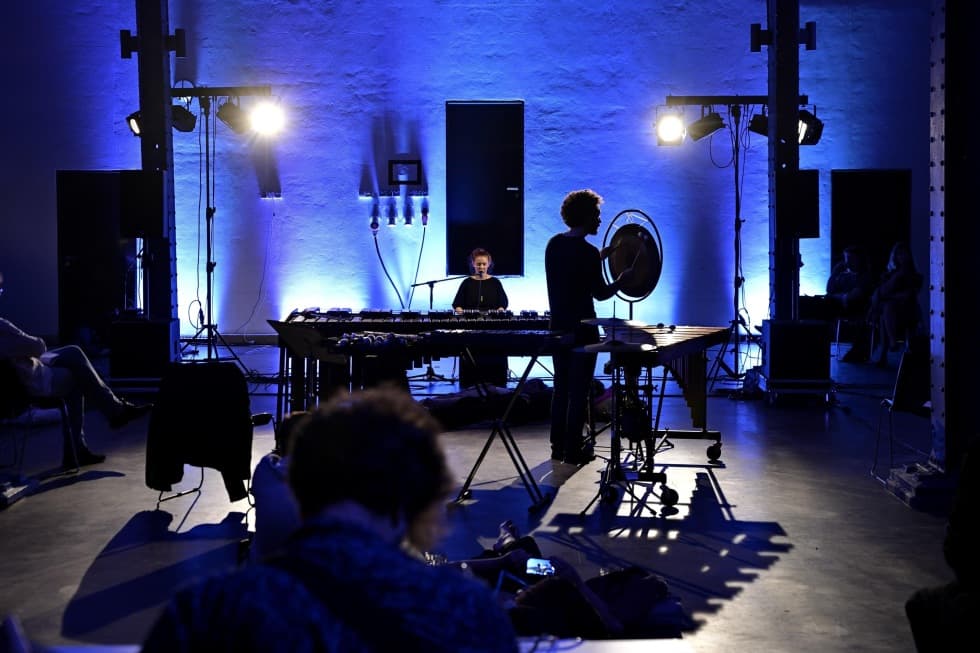 Let's get straight to it, before we divert you
How much is the ticket? basic CZK 500 | students, seniors CZK 400 I disabled CZK 250
Duration of the concert? app. 240 minutes
Is the concert hall barrier-free? Yes, the wheelchair access will be guaranteed.
The concert is organized by Prague Music Performance.
Multifunctional hall DOX+
Poupětova 3, Prague 7
Show on map
Karlheinz Stockhausen's Aus den Sieben Tagen (March 1968) is a reaction to the global and personal crises that took place in the period of its composition. The music could be called 'intuitive,' in the sense that it was created primarily on the basis of intuition, rather than the technique of its performers, and is a felt, natural attempt to solve psychological difficulties and challenges. In view of the events of 2020-21, it's fair to say that the piece is once again particularly relevant, dealing as it does with themes such as insufficient social contact, uncertainty, and the fragility of life and its values.
This site-specific performance features an exceptional ensemble which includes electronic musician Robin Rimbaud (Scanner), Motorpsycho drummer Tomas Jarmyr, Gareth Davis (Merzbow, Christian Marclay), Roland Dahinden (Miles Davis, Anthony Braxton), Dario Calderone (Klangforum Wien), Agathe Max (Rhys Chatham, Animal Hospital) and Czech singer Markéta Schaffartzik. Collaborating with light designer Barbora Jágrová, this eclectic group of musicians uses elements of experimental rock, improvisation, jazz, and contemporary music to fashion a piece that lives and breathes in the here and now.
Aus den Sieben Tagen departs from traditional expectations of a concert: audience members are encouraged to move around during the performance, to be aware of their surroundings, to walk or even lie down, to think. They're surrounded by the musicians, and so don't need to focus on a stage,but can immerse themselves in a world of sound and light, as the details in the architecture around them are emphasised, adding another layer to the music.
On Prague Music Performance
Prague Music Performance Institute & Festival was founded by Czech pianist Jan Bartoš and late Zenon Fishbein (Manhattan School of Music in New York) in 2010. The project organically combines a festival with an educational institution. PMP thematically connects concerts, master classes, workshops, lectures, and residencies. The projects primarily focus on classical music, jazz, and experimental music. However, PMP also endeavors to include other fields of art such as the fine arts, film, or literary art.
The list of renowned artists PMP has introduced throughout its history includes Alfred Brendel, Anthony Braxton, Brad Mehldau, John Zorn, Murray Perahia, Ivan Moravec, Phantasm, Quatuor Diotima, Garth Knox, Barry Guy and Maya Homburger, Miroslav Srnka, Mahan Esfahani, Saleem Ashkar, Esperanza Spalding, Dave Douglas, Greg Cohen, Joey Baron, Ikue Mori, Mary Halvorson, John Medeski, Marc Ribot, Kenny Wollesen, Julian Lage, Peter Evans, Thurston Moore, Adrian Belew, Einstürzende Neubauten, Jarboe, David Thomas, and many others.