DOX Summer Cinema
5 Jul – 6 Sep 2023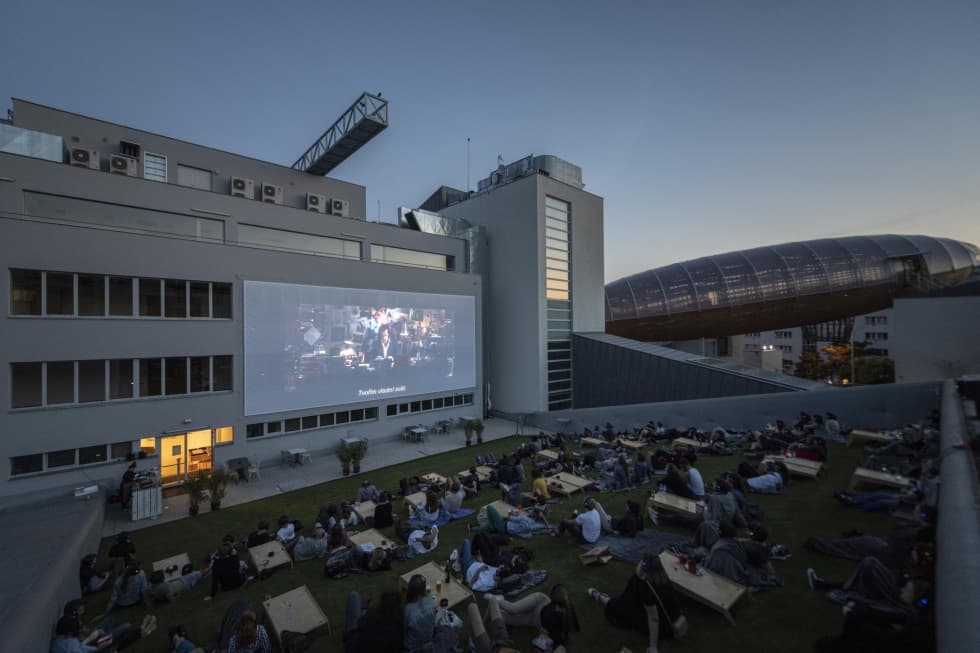 Let's get straight to it, before we divert you

When? Every Wednesday at 9.30 pm (screening starts after dark), screening on 6 September will start at 9 pm

How much does a ticket cost? A single admission is CZK 200

What about DOX Club members? 20% discount on the screening

How to buy a ticket? Tickets can be purchased online on the day of the screening until 7 pm, or from 8 pm to 9.30 pm at the DOX Centre box office (Poupětova 1).

What if it rains? In case of bad weather, the screening will be cancelled. We will refund your money if the screening has not started yet.

In what language? Films are shown in the original language with Czech subtitles and some films with English subtitles.
Terrace DOX+
Poupětova 3 – DOX+ entrance
Show on map
We are introducing a unique summer project that unites DOX and Edison Filmhub. Together, we have prepared a summer cinema for you in an extraordinary location – on the roof of DOX+ overlooking the Gulliver airship, with a selection of 9 screenings on a large outdoor screen, great sound with wireless headphones, refreshing summer drinks, and an unforgettable atmosphere. In this year's carefully selected artistic programme, contemporary art cinema and the worlds of the artists themselves converge. From Caravaggio to Jean-Luc Godard, from the Louvre Museum in Paris to Iran's stifling authoritarianism, from fine art to burlesque. We are looking forward to seeing all lovers of film and art. We are looking forward to seeing you.
5. 7. Redoubtable (France)
Directed by Michel Hazanavicius (2017, 103 min)

12. 7. Gauguin: Voyage to Tahiti (France) – SOLD OUT
Directed by Édouard Deluc (2017, 97 min)

19. 7. Leonora addio (Italy) – CANCELLED
Directed by Paolo Taviani (2022, 90 min)

26. 7. The Great Beauty (France, Italy) – SOLD OUT
Directed by Paolo Sorrentino (2013, 135 min)

2. 8. On Tour (France) – CANCELLED
Directed by Mathieu Amalric, Christophe Beaucarne (2010, 107 min)

9. 8. Caravaggio's Shadow (Italy, France) – SOLD OUT
Directed by Michele Placido (2022, 120 min)

16. 8. Pig (Iran) – CANCELLED
Directed by Mani Haghighi (2018, 104 min)

23. 8. The Salt of the Earth (France, Italy, Brasil) – SOLD OUT
Directed by Juliano Ribeiro Salgado, Wim Wenders (2014, 110 min)
30. 8. Francofonia (France, Germany, Netherlands) – CANCELLED
Directed by Alexandr Sokurov (2015, 84 min)
6. 9. at 9 pm On Tour (France)
Directed by Mathieu Amalric, Christophe Beaucarne (2010, 107 min)
Every Wednesday
one art film