Tomáš Jamník, Josef Špaček
13 Sep 2021, 7:00 PM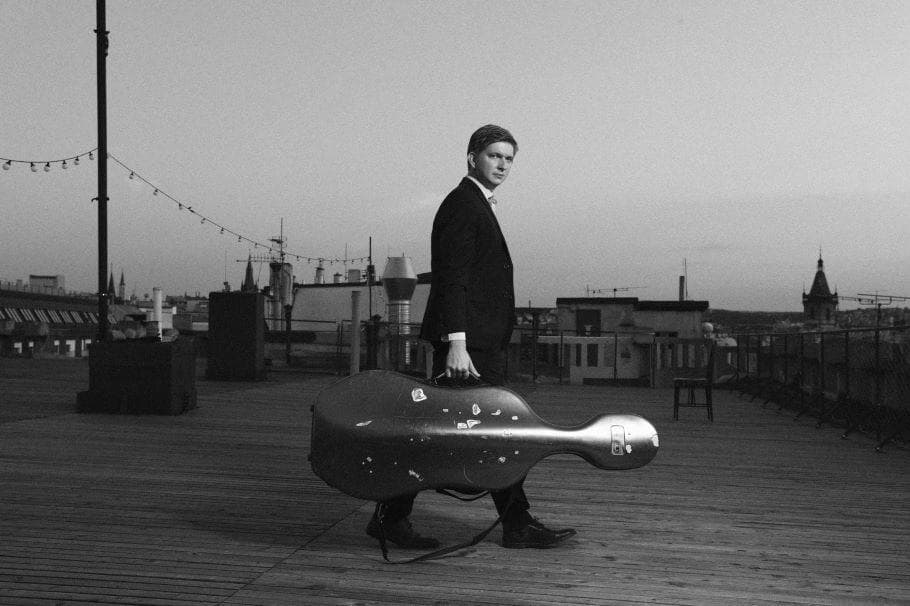 Let's get straight to it, before we divert you
As part of the 16th American Spring International Music Festival, violinist Josef Špaček and cellist Tomáš Jamník will perform in a joint concert on September 13th in the DOX+ multifunctional hall. The combination of two significant talents of the young generation promises an extraordinary musical experience.
Praised for his remarkable range of colours, his confident and concentrated stage presence, his virtuosity and technical poise as well as the beauty of his tone Josef Špaček has gradually emerged as one of the leading violinists of his generation. His performances of a wide range of repertoire demonstrate his "astonishing articulation and athleticism" (The Scotsman) and "a richness and piquancy of timbre." (The Telegraph).
Josef Špaček performs with major orchestras around the world and collaborates with eminent conductors such as Jakub Hrůša, Semyon Bychkov, Manfred Honeck, Valery Gergiev, Thomas Adès, Krzysztof Urbański, James Gaffigan, James Conlon, Maxim Emelyanchev, Jiří Bělohlávek, Thomas Søndergård, Cornelius Meister, Michael Sanderling, David Zinman, Eliahu Inbal, Tomáš Netopil, Paul Daniel, Marc Albrecht, Aziz Shokhakimov, Christian Vasquez, Jahja Ling and Lio Kuokman.
He equally enjoys giving recitals and playing chamber music and is a regular guest at festivals and in concert halls throughout Europe. His chamber music partners include Gil Shaham, Kian Soltani, James Ehnes, Clemens Hagen, Gerhard Oppitz, Noah Bendix-Balgley, Máté Szücs, Miroslav Sekera, Tomáš Jamník, Sharon Kam, Kristóf Baráti, Zoltan Fejervari and Suzana Bartal.
Supraphon released a highly praised recording of the violin concertos of Dvořák and Janáček, coupled with the Fantasy of Suk, with the Czech Philharmonic Orchestra conducted by Jiří Bělohlávek. The Sunday Times wrote: "The violinist's individual, deeply considered and virtuosic account of Dvorak's solo part is the highlight of this keenly conceived programme", adding that "in this repertoire, Špaček is second to none today."
It was the "Recording of the week" of The Sunday Times, "Recording of the month & of the year" of MusicWeb International and it received 5* in Diapason. Other recordings to date are a recital disc with works for violin and piano by Smetana, Janáček and Prokofiev with pianist Miroslav Sekera (Supraphon), works for violin solo and violin and piano by H.W. Ernst (Naxos) and an early CD with the complete Sonatas for Solo Violin by Eugène Ysaÿe.
Josef Špaček studied with Itzhak Perlman at The Juilliard School in New York, Ida Kavafian and Jaime Laredo at the Curtis Institute of Music in Philadelphia, and with Jaroslav Foltýn at the Prague Conservatory. He was laureate of the International Queen Elisabeth Competition in Brussels, and won top prizes at the Michael Hill International Violin Competition in New Zealand, the Carl Nielsen International Violin Competition in Denmark and the Young Concert Artists International Auditions in New York.
He has served as concertmaster of the Czech Philharmonic Orchestra, the youngest in its history. The orchestra named him "Associate Artist" as of January 2016. He will leave this post by the end of the 2019/20 season in order to devote himself exclusively to his solo career.
Josef Špaček performs on the ca. 1732 "LeBrun; Bouthillard" Guarneri del Gesù violin, generously on loan from Ingles & Hayday.
Tomáš Jamník is a Czech cellist, currently residing in Berlin. Recognized for his in-depth knowledge of each performed piece, attention to detail, and strong interest in bringing less-well-known music to a wider audience, Tomáš has established himself as a celebrated soloist in both classical and contemporary music.
In 2006 he won the Prague Spring International Music Competition and was awarded a number of special prizes, including the Czech Radio Prize, the Oleg Podgorny Prize, the Gideon Klein Foundation Prize, the Pro Harmonia Mundi Foundation Prize and the Artist's Life Foundation Prize. He was also a finalist at the Pierre Fourniere Award 2011 in London.
Since then, Tomáš has performed extensively with top international orchestras in Europe, the U.S., and Asia. In the recent seasons, he premiered his own version of Dvořák's Concerto for Cello and Orchestra No. 1 in A major at the Dvořák Prague festival and played the world premiere of the "Narcissus" Cello Concerto by Jan Ryant Dřízal and the Czech premiere of the "Tales of Hemingway" Cello Concerto by the American composer Michael Daugherty. Tomáš's keen interest in contemporary music has also led him to premiere works by Czech composers Miroslav Srnka, Michal Nejtek, Slavomír Hořínka, Marko Ivanović, Tomáš 'Floex' Dvořák, Miloš Orson Štědroň, Jiří Gemrot and Ondřej Kukal.
Alongside his classical career, Tomáš is an enthusiastic educator and popularizer of classical music. Since 2015, he has served as the artistic director of the Czech Chamber Music Academy, which cooperates with the German foundation Villa Musica, and in 2019 he became the artistic director of the Ševčík Academy, which focuses on advancing the teaching method of the legendary pedagogue Otakar Ševčík. In 2016, he founded the Vážný zájem ("Serious interest") project, which helps organize classical music concerts in people's homes. To date, the project has facilitated hundreds of house concerts with hundreds of musicians involved. In the wake of this success, Tomáš has been invited to speak about classical music at many events - most recently at TEDx Prague.
Tomáš began his musical training in the Czech Republic under Mirko and Martin Škampa and graduated under Josef Chuchro at the Prague Academy of Performing Arts. He continued at the Hochschule für Musik und Theater in Leipzig under Peter Bruns and at the Universität der Künste Berlin under Jens Peter Maintz. He enriched his education at the Karajan Academy in Berlin under Ludwig Quandt and at the Kronberg Academy under Steven Isserlis, Siegfried Palm, Young-Chang Cho and Pieter Wispelwey, as well as by participating in master classes given by Heinrich Schiff, Jiří Bárta, Gustav Rivinius and Truls Mørk.
Tomáš plays a violoncello made by Lorenzo Storioni in 1784, which was generously lent to him from the private collection of Mr. Aleš Voverka.