WELCOME TO HARD TIMES
18 Oct 2018 – 4 Feb 2019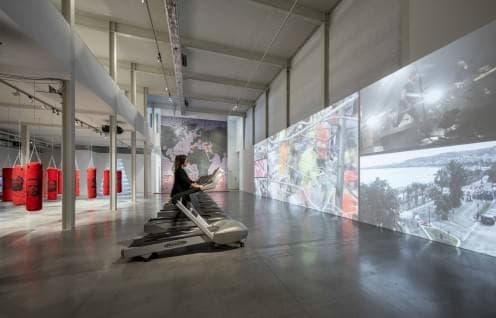 You don't have to know much to know that the world has seen better days, so what are we doing about it? What are you doing about it? Apathy is one of the many issues we're not talking about.
But why don't people care about what's going on in the world?
a. It doesn't affect them directly
b. They can't do anything about it.
c. They've seen it all before.
Instead, we go to the gym...
As a society we've never been sicker or more obsessed with exercise than we are today. New fitness concepts are being launched every day, but they're all much of a muchness, really. Instead of the 7-​minute workout there's the 6-​minute workout, instead of having to choose between yoga or acrobatics, they've been combined. But now there is a workout that challenges your body, your mind and your morals, and it might even be good for the world.
A workout that forces you to take on the big issues threatening our world every day - you can't ignore them in this gym! Sweat out your guilt and your obliviousness, train your awareness, face the beasts head on. Who knows, maybe you'll get a six-​pack, or maybe you'll come up with a solution to ocean pollution, or poverty.
In this interactive installation the space will be transformed into a gym, where you work out your muscles as you grapple with the issues facing the world. After your workout you'llfeel invigorated, informed and maybe even willing to be a little bit more aware of what's really going on in the world.
Exhibition Concept: Erik Kessels
Artists:

Elinor Milchan - My Love Answer Me project
Antuan Rodriguez - Left or Right project curated by Marisa Caichiolo
Viktor Frešo

PUBLIC EVENTS
IN THE RING /​ a series of discussions with prominent public figures in The Ring, an installation by Erik Kessels.
January 2019
Watching the Moon at Night (2015), directors Joanna Helander, Bo Persson /​ documentary film + discussion on contemporary terrorism and anti-Semitism
EDUCATIONAL PROGAMMES (to order):
Bodies on the Line /​ Why and how to leave our comfort zone
Programme: True or False /​ Media manipulation