Matters of the Heart: Denemarková, Bellová, Šteger
16 Sep 2023, 1:30 PM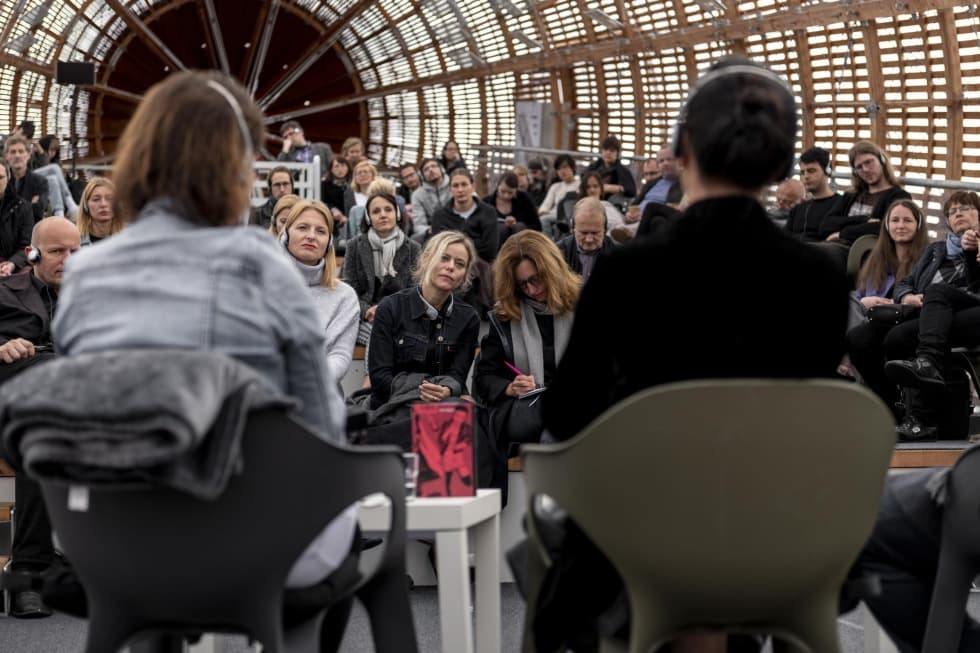 Let's get straight to it, before we divert you

Admission: Basic admission CZK 150 | reduced admission CZK 100 | 30% discount for DOX Club members
Language: Czech

The event takes place as part of the FALL festival.
Gulliver Airship
Poupětova 1, Prague 7
Show on map
We all have our favourite stories. Even writers themselves have their favourite writers – and their own particular literary matters of the heart. In this programme, our festival guests will share their favourite stories. Do you want to know what Bianca Bellová, Radka Denemarková, and Aleš Šteger enjoy reading? Each of the guests will read a short story or text (15 min.), and you will have the chance to listen and ask questions…
Radka Denemarková is a novelist, screenwriter, German–Czech translator, and one of the most respected and widely translated contemporary Czech authors. She has received four Magnesia Litera Awards for prose, non-fiction, and best translation. Her critically acclaimed novel Hodiny z Olova (Hours of lead, 2018), inspired by her sojourns in China, won her the Magnesia Litera Prize for Book of the Year (2019), the Literaturpreis des Landes Steiermark (2022), and the Brücke Berlin Literatur- und Übersetzungspreis (2022).
Bianca Bellová is a Czech novelist. She is the author of the novels Sentimentální román (Sentimental novel, 2009), Mrtvý muž (Dead man, 2011), Celý den se nic nestane (Nothing happens all day, 2013), Mona (2019), and Ostrov (The island, 2022) as well as the collection of short stories Tyhle fragmenty (These fragments, 2021). In 2016 she published Jezero (The Lake), a critically acclaimed novel for which she won the Magnesia Litera Award and the European Union Prize for Literature. In 2023 the English translation of The Lake was awarded the prestigious EBRD Literature Prize.
Aleš Šteger is a poet and prose author from Ljubljana, Slovenia. He has worked extensively across disciplines with composers, musicians, visual artists, and filmmakers. His novels and books of poems have been translated into over twenty languages.
Šteger is the programme director of Beletrina Academic Press, which he co-founded twenty-five years ago. He has initiated and led Europe-wide art projects, most notably Versopolis – a European platform for emerging poets and international poetry festivals.
Among other prizes and honours, his novel The Book of Things won two major American translation awards (BTBA and AATSEEL). In 2016 he was awarded the Horst Bienek Prize for poetry by the Bavarian Academy of Fine Arts. In 2022 his novel Neverend was awarded the Spycher: Literaturpreis Leuk and was placed in the number one spot on the prestigious SWR Bestenliste.
He received the title of Chevalier de l'Ordre des Artes et des Lettres from the French state and is a member of both the Berlin Academy of Arts and the German Academy for Language and Literature.
Šteger's latest English book is Burning Tongues: New & Selected Poems (2022). Other notable publications of his in Slovenian include Knjiga reči (poetry, 2005), Svet je vmes (poetry, 2022), Neverend (novel, 2017), Na kraju zapisano (experimental writing, 2023), and Kurent (young adult novel, 2015).
More about the Šteger: www.alessteger.com