TATA 30JS
30 Nov 2018 – 4 Mar 2019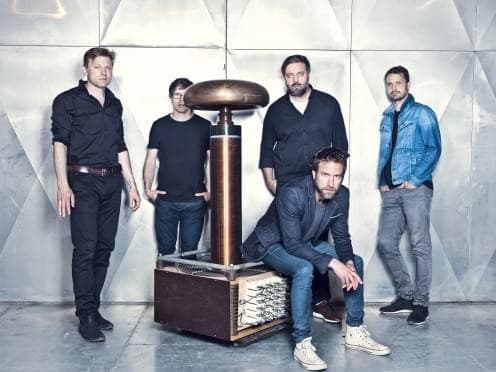 At the DOX Centre, Tata Bojs present 30 years of their existence. The exhibition links the work of this popular Czech music group in a unique manner with an equally significant visual level, primarily represented by the work of one of the group's founders, visual artist Milan Cais, who also came up with the concept of the exhibition. There is no similar Czech project that would mix the genres of music and art to such an extent.
The exhibition reconstructs the group's activities since its inceptino at the end of the 1980s to the present day through the language of modern visual art. The exhibition looks back at the past through the optics of the present, and is split into ten chapters, each reflecting a certain time period. Past moments are incarnated in newly created sculptures, multimedia objects, and installations. Most of them are by Milan Cais, who created some of them especially for the DOX exhibition.
Each of the nine albums the group issued from 1988 to 2018 has its own separate space. Exhibited works always represent a symbolic intersection of the album's main idea, its visual concept, and the circumstances under which it came about. Period materials – photos, album covers, or concert recordings – as well as painstakingly reconstructed spaces and environments in which the musicians created their music lend the individual phases of the Tata Bojs' work an authentic atmosphere. An interesting aspect will be the use of virtual reality, where visitors will be able to witness the live performance of one song in different environments and eras representing four various phases of the band's musical maturity. While this is impossible in our reality, in virtual reality it is possible.
Virtually everyone in the Czech Republic knows Tata Bojs: they got together at the end of the 1980s as schoolboys from Hanspaulka with no shortage of originality and humour, and very quickly garnered a broad following. In 2000 they signed a recording contract with Warner Music, and today put out their recording under the legendary Czech Supraphon brand. During the course of their career they have received nine Anděl [Angel] awards from the Czech Academy of Popular Music and a number of other awards, including gold records for the albums Ležatá osmička and A/B. The music of the Tata Bojs is closely wedded with other artistic genres: visual art – primarily in the work of Milan Cais, as well as ballet, literature, and film. The group will also attempt to present these as part of the exhibition's accompanying programme.
Exhibition concept: Milan Cais